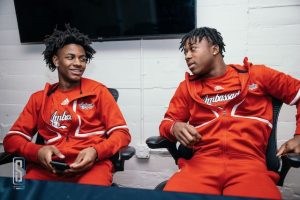 Self-efficacy is commonly defined as the belief in one's capabilities to achieve a goal or an outcome. As a result of having self-efficacy, you can be assured your positive thoughts will be converted to positive action.
American futurist Joel Arthur Barker once said, "Vision without action is merely a dream. Action without vision just passes the time. Vision with action can change the world."
What do you dream about?
What do you worry about?
What brings you joy?
To make your dreams come true, it is going to take more than prayer, love and hope.
I would argue that it takes discernment, self-efficacy, action and support, among many things.
Kelli Stewart is a great model of self-efficacy.
As we close out the month of April, I pray this month was able to bring showers of discernment, grit, focus, and self-efficacy upon you.
To help keep your skills sharp, we have introduced a new type of Skill Build—our Virtual Skill Build—where I can help you develop hitting skills anytime, anywhere using anything.
Remember: Intelligence tops being smart.
For more information, visit www.diamonddirectors.com today. Also, check out our Digital Magazine.
C.J. Stewart has built a reputation as one of the leading professional hitting instructors in the country. He is a former professional baseball player in the Chicago Cubs organization and has also served as an associate scout for the Cincinnati Reds. As founder and CEO of Diamond Directors Player Development, C.J. has more than 22 years of player development experience and has built an impressive list of clients, including some of the top young prospects in baseball today. If your desire is to change your game for the better, C.J. Stewart has a proven system of development and a track record of success that can work for you.