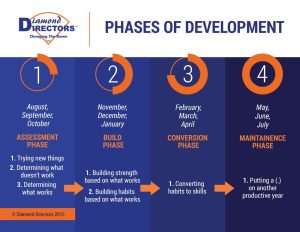 It is April. The flowers are blooming. The rain showers will fall. And it's spring. But there is something else special about this month. April is the final month my hitters focus on converting their habits to skills.
There are four things I pray rains down on baseball players of all ages and skill levels throughout the world this month:
Grit
Focus
Self-efficacy
Grit is the relentless pursuit of purpose. It is a mental skill that can only be developed by doing things that are tough. It is necessary because, as we know, "skills pay the bills."
So many hitters seemingly had productive winter workouts and came into the spring with high expectations. Some are meeting these goals, while others are struggling to the point of wanting to quit playing baseball altogether.
It is that struggle that helps you develop grit. Since grit is the relentless pursuit of purpose, it is important we have a specific purpose for life in general and baseball specifically.
What is your life purpose?
What is your reason for playing baseball?
My reason for coaching is to help diamond sport athletes become the best version of themselves.
Before the word coach was used in sports, it was only used as a means of transportation. There was a horse, a coachman to stir the horse, and the coach was the place where passengers rested until they arrived at their destination.
Life is a bumpy ride and grit is the fuel. The let-downs and disappointments in my life are the things that have caused me to develop the grit required for me to move from being an ordinary person to an extraordinary person on a mission for God.
Grit is the thing that moves athletes from just possessing talent, to having strong habits, to being skilled.
Get grit so you don't quit.
To help keep your skills sharp, we have introduced a new type of Skill Build—our Virtual Skill Build—where I can help you develop hitting skills anytime, anywhere using anything.
Remember: Intelligence tops being smart.
For more information, visit www.diamonddirectors.com today. Also, check out our Digital Magazine.
C.J. Stewart has built a reputation as one of the leading professional hitting instructors in the country. He is a former professional baseball player in the Chicago Cubs organization and has also served as an associate scout for the Cincinnati Reds. As founder and CEO of Diamond Directors Player Development, C.J. has more than 22 years of player development experience and has built an impressive list of clients, including some of the top young prospects in baseball today. If your desire is to change your game for the better, C.J. Stewart has a proven system of development and a track record of success that can work for you.