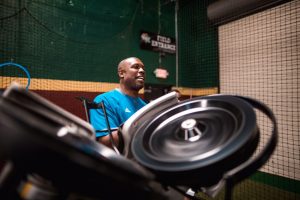 There are five steps to coaching hitters that I learned from watching my parents improve the landscaping at my house.
One of the things I have observed about grass is that it can grow through concrete. All it needs is a small amount of sunlight.
As coaches, we have a tendency to do too much too often. As a young coach starting my career over 20 years ago, I did a lot of talking to mask my ignorance about coaching.
Coaches should be diligent with your practice time with your hitters. This is the time they need to prepare to perform in their games. The game is not the time for you to coach. It is the time for your hitters to test what you have prepared them to do in practice.
Remember, grass can grow tall through concrete with just a small amount of sunlight.
To be athletic is the ability to figure things out even when you do not know how to do what is expected of you. It is all about being able to think critically and that is a skill set that is needed in baseball and in life. Athleticism allows athletes to figure things out when coaches give them space. I believe that coaches do too much too often because of their arrogance at best, and ignorance at worse.
As Tripp Prince once said, "Fruit trees planted in good soil by the water are made to bear fruit and offer shade to those around them, yet this does not happen overnight. Fruit only comes after years of slow, faithful growth and development, and the same is true for you."
To help keep your skills sharp, we have introduced a new type of Skill Build—our Virtual Skill Build, where I can help you develop hitting skills anytime, anywhere using anything. Check it out.
Remember: Intelligence tops being smart.
For more information, visit www.diamonddirectors.com today. Also, check out our Digital Magazine.
---
C.J. Stewart has built a reputation as one of the leading professional hitting instructors in the country. He is a former professional baseball player in the Chicago Cubs organization and has also served as an area scout for the Cincinnati Reds. As founder and CEO of Diamond Directors Player Development, C.J. has more than 12 years of player development experience and has built an impressive list of clients, including some of the top young prospects in baseball today. If your desire is to change your game for the better, C.J. Stewart has a proven system of development and track record of success that can work for you.