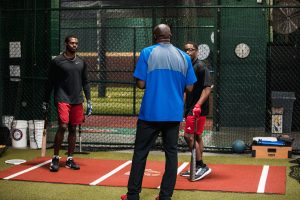 Several weeks ago, my parents came to our house to help us improve our house's landscaping. As they get older, they spend a lot of time in the yard. I do not know anything about landscaping. I would cut the grass on the weekends as a child, but that was about it.
The lessons they were teaching me is similar to coaching hitters in baseball. On the landscaping front, one of the main things I learned from my parents was that grass can grow just about anywhere there is sunlight and water. In baseball, hitters can develop their skills the same way—when "coaches" get out of the way.
Here are 5 teaching principles that are similar to landscaping your yard:
No. 1 — Taking time to observe a hitter's actions at the plate without giving instruction is like tilling the ground before planting the grass seed.
No. 2 — Teaching the fundamentals of hitting is like planting the seed. Remember, there are seven parts to the swing, including:
Stance/Load
Timing
Tempo
Tracking
Approach
Contact
Extension/Finish
No. 3 — Giving encouragement and being available to answer questions when the hitter needs it is like you watering the grass.
No. 4 — Making sure the hitter gets the game at-bats he needs to test what he has been working on in practice is like providing sunlight for the grass.
No. 5 — Sternly correcting the hitter when he fails to practice with focus and/or fails to make the necessary in-game adjustments is like removing the weeds that can choke out the growth of the grass.
Making adjustments does not mean you fix what is wrong. It means that you recognize you are doing something wrong and that you immediately do something different, which can lead you to correcting what you are doing wrong.
To help keep your skills sharp, we have introduced a new type of Skill Build—our Virtual Skill Build, where I can help you develop hitting skills anytime, anywhere, using anything. Check it out.
Remember: Intelligence tops being smart.
For more information, visit www.diamonddirectors.com today. Also, check out our Digital Magazine.
---
C.J. Stewart has built a reputation as one of the leading professional hitting instructors in the country. He is a former professional baseball player in the Chicago Cubs organization and has also served as an area scout for the Cincinnati Reds. As founder and CEO of Diamond Directors Player Development, C.J. has more than 12 years of player development experience and has built an impressive list of clients, including some of the top young prospects in baseball today. If your desire is to change your game for the better, C.J. Stewart has a proven system of development and track record of success that can work for you.