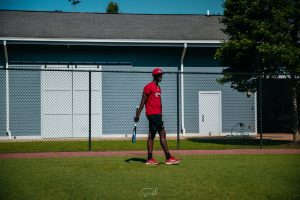 There are three types of strength that I focus on with my hitters: Mental (how you think); emotional (how you feel about what you think about); and physical (how you get things done). In a previous blog, I shared my Focus Box, which I created to guide the thinking of my hitters.
I will admit it: I have a hard time being patient. To be patient is to wait without anger. I like to be in control of things, but I have a problem submitting to people who know what they are talking about and what they are doing.
How do you feel when things don't go your way in life? Specifically, how do you feel when you are struggling as a hitter?
This takes me back to this year's World Series, where my hometown Atlanta Braves came through for our City. I was a nervous wreck watching them from the comfort of my home. The Houston Astros fought the entire series. They are one of the best teams of hitters I have ever seen.
Since MLB players are human, they had to feel stress throughout the World Series. So, why were they able to rise to the occasion when they felt stressed? Because they know how to think and they embrace how they feel about being stressed.
Stress should not be denied; it should be embraced as a real feeling. The response to stress depends on how you have been trained. That's why I train my hitters under stress February-April, after they build habits and strength November-January.
Is there a difference between practicing and training? There sure is. Practice is the time to build habits while skills are developed during training. Habits are things you do well repeatedly without thought, while skills are things you do well repeatedly without thought while under stress.
Know that the upcoming spring baseball season will bring about stress—stress you will feel. And right now, you can build habits and strength to win them.
To help keep your skills sharp, we have introduced a new type of Skill Build—our Virtual Skill Build—where I can help you develop hitting skills anytime, anywhere using anything.
Remember: Intelligence tops being smart.
For more information, visit www.diamonddirectors.com today. Also, check out our Digital Magazine.
C.J. Stewart has built a reputation as one of the leading professional hitting instructors in the country. He is a former professional baseball player in the Chicago Cubs organization and has also served as an associate scout for the Cincinnati Reds. As founder and CEO of Diamond Directors Player Development, C.J. has more than 22 years of player development experience and has built an impressive list of clients, including some of the top young prospects in baseball today. If your desire is to change your game for the better, C.J. Stewart has a proven system of development and a track record of success that can work for you.