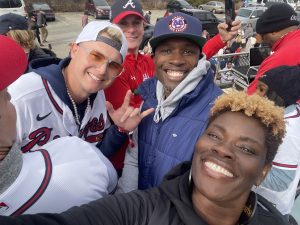 Oftentimes, athletes think about strength training as something physical. Yes, the body must be strong, but so does the mind. For me, mental strength is all about how you think. I want my hitters to be able to think critically by knowing what to do at all times.
The Focus Box (see below) I created several years ago helps my hitters develop their mental strength.
Success is what every hitter strives for, and those who get lots of hits do it with consistency. They usually are the ones sitting at the table signing the college baseball scholarship and the Major League Baseball Draft professional contract.
Whatever you think is success, the opposite is failure. It is not easy to admit you failed unless you know what to do next. Making an adjustment is the next best thing to do when you are failing.
If success is hitting a line drive and popping the ball up is failure, then hitting a ground ball is what making an adjustment is. Making an adjustment means you're willing and able to do something different than what you're doing. That which causes you to fail can lead to success.
Repeatedly popping the ball up will only lead to stress. Maybe your coach will bench you because he thinks you were ignorant about how to correct what you're doing wrong or intolerant of his instruction.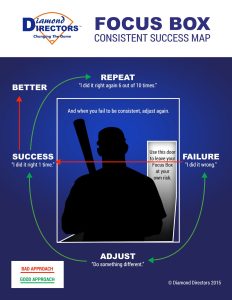 My experience as a collegiate and professional baseball player, as well as a professional baseball scout, has proven to me that if a hitter can master the ability to make adjustments, he can compete at the collegiate level. If you want to play professional baseball, you must be able to achieve success.
So, what does it take to become a Major League Baseball player? You must be able to repeat.
Albert Einstein once said, "The world as we have created it is a process of our thinking. It cannot be changed without changing our thinking."
To help keep your skills sharp, we have introduced a new type of Skill Build—our Virtual Skill Build—where I can help you develop hitting skills anytime, anywhere using anything.
Remember: Intelligence tops being smart.
For more information, visit www.diamonddirectors.com today. Also, check out our Digital Magazine.
C.J. Stewart has built a reputation as one of the leading professional hitting instructors in the country. He is a former professional baseball player in the Chicago Cubs organization and has also served as an associate scout for the Cincinnati Reds. As founder and CEO of Diamond Directors Player Development, C.J. has more than 22 years of player development experience and has built an impressive list of clients, including some of the top young prospects in baseball today. If your desire is to change your game for the better, C.J. Stewart has a proven system of development and a track record of success that can work for you.