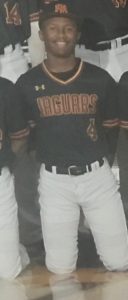 November through January is the time my hitters commit to building habits and strength so that they can convert those habits to skills February through April. As we have emphasized many times in this blog, "skills pay the bills."
Talent is what you do well. Habits are what you do well repeatedly without thought. And skills is what you do well repeatedly without thought while under stress.
Take bat speed. That is talent. Being able to maintain bat speed on varying pitch types, speeds, and location can become a habit. Doing that with consistent success like Mookie Betts in clutch situations is what possessing a skill is all about.
Douglas Evans is a L.E.A.D. Ambassador and a junior student-athlete in baseball at Maynard Jackson High School under the leadership of head baseball coach, Desmond Stegall.
Here is how Douglas defines work ethic.
Here are his hitting goals for the 2021 high school baseball season.
Finally, take a look at his go-to hitting drill, which he believes will help him achieve those goals.
To help keep your skills sharp, we have introduced a new type of Skill Build—our Virtual Skill Build, where I can help you develop hitting skills anytime, anywhere using anything. Check it out.
Remember: Intelligence tops being smart.
For more information, visit www.diamonddirectors.com today. Also, check out our Digital Magazine.
---
C.J. Stewart has built a reputation as one of the leading professional hitting instructors in the country. He is a former professional baseball player in the Chicago Cubs organization and has also served as an associate scout for the Cincinnati Reds. As founder and CEO of Diamond Directors Player Development, C.J. has more than 22 years of player development experience and has built an impressive list of clients, including some of the top young prospects in baseball today. If your desire is to change your game for the better, C.J. Stewart has a proven system of development and a track record of success that can work for you.