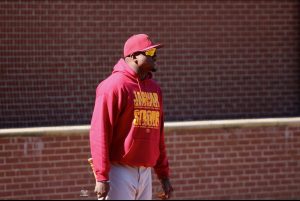 It is cold outside and committed high school baseball coaches are doubling down on their efforts to get their hitters ready for the spring. Take Desmond Stegall, head baseball coach at Maynard Jackson High School (MJJ). He graduated from Benjamin E. Mays High School in Atlanta as well as from Grambling State University with a master's degree in Sports Administration. He was a student-athlete (baseball) at Mays and Grambling.
Desmond is one of those committed coaches I am talking about. I define commitment as a promise made to yourself and for yourself before you focus on others. I recently sat down with Coach Des to get his thoughts on the game and how today's players can make more of commitment to perfecting their craft.
What age were you when you started playing baseball?
I began at age 3.
What was it about the game that made you love it so much?
Growing up I played almost every position, so the action and speed of the game is what I fell in love with.
How do you define commitment?
I simply define it as dedication with maximum effort.
How do you know when your players are not 100% committed to your team's goals?
I have a saying here, "Nobody controls your A.A.E.E." That means your Attitude, Attentiveness, Energy and Effort. This is what I use to judge commitment.
How do you help them become more committed?
By setting daily goals and working to achieve those goals. I preach going 1-0 each and every day—whether it is at practice, in the classroom or in the community.
What are the Top 3 things all high school hitters must do right now to get/remain on track to playing D-I baseball like you did?
All high school hitters should get mentally and physically stronger, practice with purpose, and get live ABs versus quality pitching.
To help keep your skills sharp, we have introduced a new type of Skill Build—our Virtual Skill Build, where I can help you develop hitting skills anytime, anywhere using anything. Check it out.
Remember: Intelligence tops being smart.
For more information, visit www.diamonddirectors.com today. Also, check out our Digital Magazine.
---
C.J. Stewart has built a reputation as one of the leading professional hitting instructors in the country. He is a former professional baseball player in the Chicago Cubs organization and has also served as an associate scout for the Cincinnati Reds. As founder and CEO of Diamond Directors Player Development, C.J. has more than 22 years of player development experience and has built an impressive list of clients, including some of the top young prospects in baseball today. If your desire is to change your game for the better, C.J. Stewart has a proven system of development and a track record of success that can work for you.