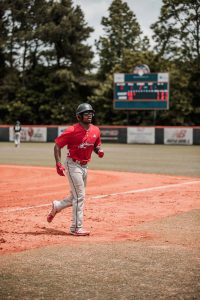 Before reading this blog, you need to read last week's — "Why Now is Time to Begin Your 'March' to Baseball Success." There are four steps I believe you need to focus on for the month March.
Don't be stupid.
Remain strong during your struggles.
Embrace your success.
Use your success to serve others.
Stupid people do stupid things and win stupid prizes. Stupidity is knowing the right thing to do and not doing it.
I've been coaching professionally for 23 years. As a result of a lot of reading and training hitters for more than 50,000 hours, I have generated lots of results.
Part of my training requires you know there are seven parts of the swing and that it takes 3,000 reps to build a habit. That's 21,000 reps. It also takes another 21,000 reps to convert a habit to a skill.
Stance/Load
Timing
Tempo
Tracking
Approach
Contact
Extension/Finish
I was drafted twice by the Chicago Cubs and played in the team's minor league system. Unfortunately, I failed to have a successful Major League Baseball career because of my stupidity. I didn't work out as much as I should have in the off-season. I didn't get the sleep needed to recover from injuries and prepare for the next day. Basically, I lacked work ethic, which I define as:
Excellence
Humility
Integrity
Loyalty
Stewardship
Teamwork
I didn't like to struggle. But as I have learned now as an adult, struggle is better than stupidity. I will go deeper into this premise in next week's blog.
Until then, to keep your skills sharp, check out our Virtual Skill Build, where I can help you develop hitting skills anytime, anywhere using anything.
Remember: Intelligence tops being smart.
For more information, visit www.diamonddirectors.com today. Also, check out our Digital Magazine.
C.J. Stewart has built a reputation as one of the leading professional hitting instructors in the country. He is a former professional baseball player in the Chicago Cubs organization and has also served as an associate scout for the Cincinnati Reds. As founder and CEO of Diamond Directors Player Development, C.J. has more than 22 years of player development experience and has built an impressive list of clients, including some of the top young prospects in baseball today. If your desire is to change your game for the better, C.J. Stewart has a proven system of development and a track record of success that can work for you.