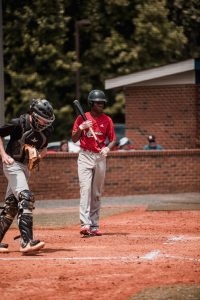 It's March and baseball is in full swing for the MLB, college baseball, high school and Travel Baseball. I thought it might be a good time to take a closer look at the word "march." In the military or a peaceful protest, a march means you are moving ahead; progressing; advancing to battle or for a cause.
Why do you play baseball?
Is your goal to become an elite hitter?
What steps are you taking to become elite?
How will you use your success to serve others?
The month of March is the perfect time to evaluate your marching orders toward significance. Being significant is all about using your success to serve others. There are four steps that I believe you need to focus on for the month March.
Don't be stupid.
Remain strong during your struggles.
Embrace your success.
Use your success to serve others.
Stay tuned for the next four weeks of the month of March as I teach you these four steps.
I've been coaching professionally as a hitting coach for 23 years. A part of my success as a Coach is because of my year-round phased approach of development. February-April is the time of year I convert my hitters' habits to skills.
Talent is what you do well. A habit is what you do well repeatedly without thought. Skills is what you do well repeatedly without thought while under stress.
There is no success without stress.
Marcell Ozuna is one of my favorite hitters. Not because of his batting speed and energy—those are attributes that describe talent. But in moments of stress, he's at his best.
To help keep your skills sharp, we have introduced a new type of Skill Build—our Virtual Skill Build, where I can help you develop hitting skills anytime, anywhere using anything. Check it out.
Remember: Intelligence tops being smart.
For more information, visit www.diamonddirectors.com today. Also, check out our Digital Magazine.
C.J. Stewart has built a reputation as one of the leading professional hitting instructors in the country. He is a former professional baseball player in the Chicago Cubs organization and has also served as an associate scout for the Cincinnati Reds. As founder and CEO of Diamond Directors Player Development, C.J. has more than 22 years of player development experience and has built an impressive list of clients, including some of the top young prospects in baseball today. If your desire is to change your game for the better, C.J. Stewart has a proven system of development and a track record of success that can work for you.