It's almost time for summer baseball – a time to test your talent against some of the best young players in the game. It's also time to get ahead of your competition by developing your head. Sandy Alomar, Sr., my Rookie Ball manager with the Chicago Cubs, told me that to be a Major Leaguer, you must have a "good head on your shoulders."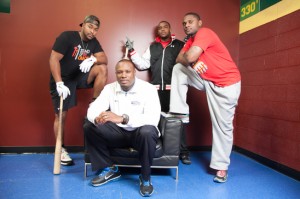 It wasn't until years later that I understood what he meant. Having a "good head on your shoulders" includes having the right mindset for baseball, good vision and good verbal communication skills.
Learn from failure
You've heard me say over and over that baseball is a game of failure. That means college and professional scouts will consider you successful based on a high frequency of failure.
Check out this example, Josh Hamilton signed a five-year, $125 million contract extension with the Los Angeles Angels in 2012. His career batting average is .302. The average salary of a pilot is $42,000 per year. What if a pilot only successfully landed a plane 30 percent of the time?
The best hitters use failure as an opportunity to make adjustments.
Strengthen your approach
You have six major muscles in your eyes. To get strong, you lift weights to strengthen your leg muscles. If your legs aren't strong, it will impact your ability to perform in front of scouts. So, what do you do to strengthen your eye muscles? Click here and I will show you how to slow down the game with your eyes.
Communicate your weaknesses
One of the most overlooked skills in the game is proper communication. A wise man once said you must be "quick" to listen and "slow" to speak. Some players suffer with talking too much and performing too little, while others don't talk enough. But communication is key. You must tell your coaches or private hitting coaches when you need help. You should never struggle in the field if you have access to professional help.
If you're reading this blog, you know me. You know that I have earned the respect as one of the top professional swing coaches in the country. You know that you can experience my life changing Hitting Lab session onsite or online. So, unless you're working with a professional swing coach you trust with your career, I expect to hear from you. I'd be honored to make you part of the Diamond Directors' development team.
Good hitters don't work hard; they work smart.
For more information, visit www.diamonddirectors.com today.
BIO:
C.J. Stewart has built a reputation as one of the leading professional hitting instructors in the country. He is a former professional baseball player in the Chicago Cubs organization and has also served as an area scout for the Cincinnati Reds. As founder and CEO of Diamond Directors Player Development, CJ has more than 12 years of player development experience and has built an impressive list of clients, including some of the top young prospects in baseball today. If your desire is to change your game for the better, C.J Stewart has a proven system of development and track record of success that can work for you.