In November, my hitters will focus on building habits and strength.
"If you don't know where you are going any road will take you there."
One of the best things I've done as a professional hitting coach is to be specific about "when" we do the "what." Coaches will argue for hours over what drills to do and how to do them, never mentioning when to do them and for how long.
Here are my Phases of Development for my hitters: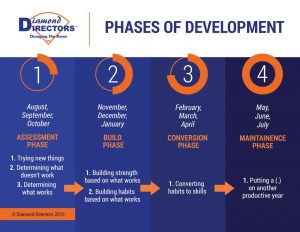 I've had coaches ask me if I was concerned about sharing my secrets. My response has always been no. I'm not concerned, because a treasure map means nothing if you don't have the commitment and discipline to go get the treasure. That's for another blog though, so let me get focused here.
From August through October, my hitters focused on trying new things to determine what doesn't work and what does work. If that's uncomfortable, I don't care, because a part of becoming the best at anything in life is being comfortable with being uncomfortable.
There are seven parts of the swing and it takes 3,000 reps per part to build a habit.
Stance/Load
Timing
Tempo
Tracking
Approach
Contact
Extension/Finish
That's 21,000 total reps to build a habit.
Other vital habits that serve as the glue for swing development are commitment, discipline and the ability to make adjustments. Making an adjustment is simply doing something different after you fail. This can lead to success. Simple to understand, yet difficult to do, because of a lack of commitment and discipline needs to be developed before learning how to hit.
What competing commitments do you have that prevent you from becoming a great hitter? If discipline was like gasoline, how much do you have in your tank right now? What parts of the swing do you need to build a habit for?
Remember: Intelligence tops being smart.
For more information, visit www.diamonddirectors.com today. Also, check out our digital magazine, Changing the Game. 
________________________________________________________________________________
C.J. Stewart has built a reputation as one of the leading professional hitting instructors in the country. He is a former professional baseball player in the Chicago Cubs organization and has also served as an area scout for the Cincinnati Reds. As founder and CEO of Diamond Directors Player Development, CJ has more than 12 years of player development experience and has built an impressive list of clients, including some of the top young prospects in baseball today. If your desire is to change your game for the better, C.J. Stewart has a proven system of development and track record of success that can work for you.