As the first month of our calendar year, January reminds us that we made it through another year, and it's time to prepare for the next. With winter weather barreling down around most of us, very few baseball players are playing organized games. That means most everyone is waiting for the first pitch of 2015 in the spring.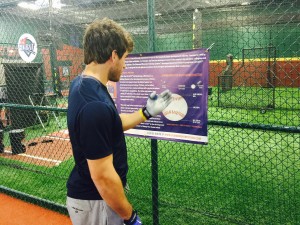 So, it stands to reason that success is based on what you do now.
Do you day dream about leading your league in hits? Extra base hits? Home runs? I did during my playing days. And while I reached the minor leagues with the Chicago Cubs, my dream of being that "top player" never materialized. Honestly, I lacked discipline, and I didn't build good hitting habits and lacked sustainable strength.
To help you avoid those traps, I am proposing three resolutions for 2015 that I recommend you set out to fulfill.
No. 1 – Gain discipline
Discipline simply is doing what you don't want to do. Without discipline, you can't do anything of significance. Significance exceeds successes such as going 3 for 3 in a game. Significance is your team winning the state championship or conference title in college because of the work ethic that you model everyday at practice and games.
What is something that's bigger than you that you're striving for or should be striving for with regards to baseball?
What do you lack that will guarantee that you won't achieve that significant goal?
Be aware when you lack discipline. Act immediately by making an adjustment (do something different) when you lack discipline. Discipline answers "yes" that I did the right thing, at the right time, even if I didn't want to.
No. 2 – Build habits
Did you know that it takes 3,000 reps to build a habit? If you've been reading my blogs, then of course you do. With that said, we no longer have to say that "hard work pays off," because it takes 3,000 reps.
If you don't get specific about what you're doing with your practice time, you'll find yourself leaning on excuses to try to justify why you continue to fail. Failure is inevitable and, so is building good habits.
August through October is the time my clients focus on being assessed. What's working? Why isn't working? Let's try this instead.
November through January are when we focus on building good habits based on our assessment from the prior months.
Great hitters develop great habits such as getting to a great load position to hit on time with great tempo 90 percent of the time.
Great hitters also develop the great habit of knowing how to think. When great hitters do something wrong, rather than trying to do it right, they make the adjustment (do something different) immediately. When great hitters do something right, rather than trying to "do it better," they focus on doing it again.
No. 3 – Build strength
Got discipline? Great habits? Strength? I'm not talking about strength to hit a ball 500 feet. I'm talking about strength to maintain great habits throughout the spring and summer baseball months (February through July). You can have the best swing mechanics, but if you lack strength, you compromise results.
Great hitters are strong in their eyes, shoulders, forearms, core (abs/back) and legs in order to sustain a great load, timing, tempo, tracking pitches, approach, point of contact, extension and completion of the swing.
Apply these resolutions while you can as a player so that you aren't forced to teach them as a coach like me while not experiencing significance as a player.
Remember: Good hitters don't work hard; they work smart.
For more information, visit www.diamonddirectors.com today.
BIO
C.J. Stewart has built a reputation as one of the leading professional hitting instructors in the country. He is a former professional baseball player in the Chicago Cubs organization and has also served as an area scout for the Cincinnati Reds. As founder and CEO of Diamond Directors Player Development, CJ has more than 12 years of player development experience and has built an impressive list of clients, including some of the top young prospects in baseball today. If your desire is to change your game for the better, C.J Stewart has a proven system of development and track record of success that can work for you.