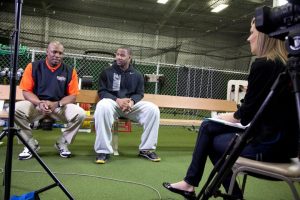 This year has been a year full of nasty curveballs and hard fastballs. While I don't know what 2021 has in store, I have matured a lot as a result of 2020. Now is the time for people to start putting the finishing touches on their (New) New Year's Habit list.
Habits consist of three parts—a cue, a routine and a reward. Oftentimes, we spend most of our time dreaming of the rewards we want in life. Right now, I'm dreaming of purchasing a 2021 red Ford F-150. As a routine, I must maintain good decision-making when it comes to spending. A cue is anything that can positively or negatively impact your routine.
For example, I like shoes. So getting emails with the latest adidas shoes can cause a negative cue, which can alter my routine of saving and negatively impact my reward of purchasing my F-150.
Millions of hitters want to build good habits during this time of year, spending 90% of their time on their swing routine. But the cues never change.
A cue change in the game is the varying pitch types, speeds and locations. I have yet to see a good pitcher who only throws fastballs. Yet, that's the only pitch hitters commit to hitting in practice.
What is the (New) New Year's Habit you're striving for?
What cues do you predict will disrupt your routine?
To help keep your skills sharp, we have introduced a new type of Skill Build—our Virtual Skill Build, where I can help you develop hitting skills anytime, anywhere using anything. Check it out.
Remember: Intelligence tops being smart.
For more information, visit www.diamonddirectors.com today. Also, check out our Digital Magazine.
---
C.J. Stewart has built a reputation as one of the leading professional hitting instructors in the country. He is a former professional baseball player in the Chicago Cubs organization and has also served as an associate scout for the Cincinnati Reds. As founder and CEO of Diamond Directors Player Development, C.J. has more than 22 years of player development experience and has built an impressive list of clients, including some of the top young prospects in baseball today. If your desire is to change your game for the better, C.J. Stewart has a proven system of development and a track record of success that can work for you.