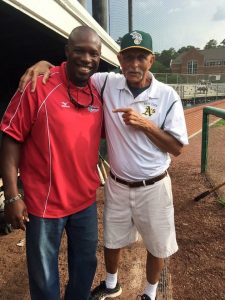 Editor's Note: This is the first in a two-part series on the six signs of great travel team baseball parents.
We as coaches often choose to isolate ourselves from players and parents for a number of reasons. I'm raising my hand high as a victim of this. Of the myriad reasons you may run and hide from parents, the following three seem to be the most obvious:
Ignorance – Lack of knowledge
Arrogance – Making claims of superior importance
Intolerance – Unwillingness to accept views, beliefs and behaviors that differ from one's own
In my prime, as a young and accomplished coach at the prestigious East Cobb Baseball program, I remember not being able to answer the simple question, "Who are you?" I didn't know who I was or what I stood for, but I was being paid and trusted to help my players reach their full potential.
Everyday that I came to the field was an opportunity for my players and parents to realize that I was insecure and faking it, until I finally made it thanks to their financial and time expense.
In today's highly competitive youth baseball landscape, here are three of the six signs you should look for in great travel team baseball parents. I will share the last three in our next blog.
1. They love their sons
There is only a small percentage of players who are able to sign collegiate baseball scholarships and/or professional contracts. For perspective, there are thousands of travel baseball programs across the country that claim they are the best. Competing on one of these teams will cost you thousands of dollars annually. And while your son may not become a famous baseball player, it is your responsibility to love him enough so that he becomes a respected husband and father. An act of love is demonstrated when you demand that your family is respected by coaches.
2. They demand respect
It was the damnedest thing to me how much control I had over parents when I coached travel baseball. I could disrespect them and get paid for it, mainly because they believed I could help their son gain a scholarship and possibly get drafted. Never trust a coach that won't respect you.
3. They ask open-ended questions on the front end
Before you can start effectively asking open-ended questions, you must know what an open ended question is. To save you from using Google, an open-ended question is one that requires a full answer and uses the subject's own knowledge or feelings.
I never liked open-ended questions early on in my coaching career, because I didn't know myself well enough to answer them. I was super insecure and lacked any thread of self-awareness. Open-ended questions were threatening to me and took me to a place of anger.
Here are three questions you should ask your coach on the front end of the relationship, as in before you say yes to being on his team and cutting him a check:
Why did you select my son to play on your team?
How will you remove him if you feel he's not working out for you?
What do you feel is his full potential?
How much playing time will he receive on this team?
Remember that travel baseball wasn't around in the days of Hank Aaron and Mike Schmidt. Those young men were forced to think critically and be gritty (strength of character), because they didn't have the resources (batting cages, new cleats, protective gear, etc.) that kids have today. In fact, you could make the case that they didn't even know what was needed – they just played the game.
Remember: Intelligence trumps being smart.
For more information, visit www.diamonddirectors.com today. Also, check out our Digital Magazine.
BIO
C.J. Stewart has built a reputation as one of the leading professional hitting instructors in the country. He is a former professional baseball player in the Chicago Cubs organization and has also served as an area scout for the Cincinnati Reds. As founder and CEO of Diamond Directors Player Development, CJ has more than 12 years of player development experience and has built an impressive list of clients, including some of the top young prospects in baseball today. If your desire is to change your game for the better, C.J Stewart has a proven system of development and track record of success that can work for you.