According to ScienceDirect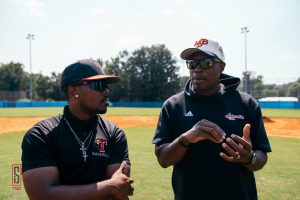 , students with a task orientation feel successful when they apply effort and learn something new. Students with an ego orientation define success in terms of performing better than their classmates and demonstrating their superior ability to others
I created a mental model, "The Progression To Performance," several years ago to ensure those I coach have an opportunity to become their best where they are task or ego oriented.
"Progression To Performance" starts with the players being protected by me as a professional coach. Being professional means I will:
Be prepared
Be punctual
Make promises
Keep promises
Being professional also means I have to continue to study and be trained in the areas of:
Learning orientations
Learning styles
Social emotional learning
Trauma informed methods of coaching
Systems thinking
Being protected in my "Progression To Performance" is followed by players learning how to participate, learning how to practice, learning how to play and learning how to perform.
Playing and performing are not the same and are as different as talent is to skills.
Talent is what you do well. Habits is what you do well reportedly without thought, while skills is what you do well reportedly without thought while under stress.
My players play games to learn but we perform to win. If you are coaching to win, do you want players that are task oriented or ego oriented? Or both?
I'd rather have both. I definitely want ego oriented players and I will commit to coaching them to use their success to serve others because that's what significance is all about. Significance is the next level after success.
Talented players will always have a hard time out-competing skilled players. Can you imagine the number one high school baseball team in America beating a Major League team?
As coaches, we have to get our players to levels of skill so that they can perform. We have to also make sure they understand competition is about winning as well as making others better.
We play games during our regular season and perform during tournament season.
When my teams play games, winning doesn't matter because we are there to learn. However, when we show up to perform, winning is everything.
In practice and games, I want my ego oriented players to compete with our task oriented players so that they will be leveled up to perform.
As Beth Brooke said, "Success is fine, but success is fleeting. Significance is lasting."
What are your thoughts about this blog?
Remember: Intelligence tops being smart.
For more information, visit www.diamonddirectors.com today.
C.J. Stewart has built a reputation as one of the leading professional hitting instructors in the country. He is a former professional baseball player in the Chicago Cubs organization and has also served as an associate scout for the Cincinnati Reds. As founder and CEO of Diamond Directors Player Development, C.J. has more than 22 years of player development experience and has built an impressive list of clients, including some of the top young prospects in baseball today. If your desire is to change your game for the better, C.J. Stewart has a proven system of development and a track record of success that can work for you.