With the countdown to Christmas in full gear, I would like to give you a blog that will help you prepare for 2016. This blog will help you identify people you should follow as well as things you should start and stop doing.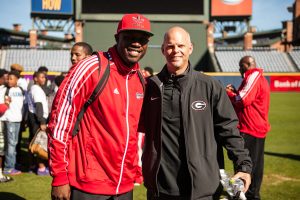 My top 5 list of people that model significance
Hitters will train for hours to be successful. Unfortunately, there is no lasting joy in success. Lasting joy is in significance, and significance is all about how your success intentionally benefits others. Here are five significant people who empty themselves so that others can be filled:
Cam Newton
Lebron James
Tim Hudson
Mark Richt
My top 5 gifts that every hitter needs
The word gift in this context means ability or talent. God has blessed me with a spiritual gift of discernment. That means I have the ability to judge well. Here are five gifts that every hitter needs in order to reach success and significance:
No. 1 – Selflessness
Baseball as a whole is saturated with selfish players. I was one. Jackie Robinson wasn't.
No. 2 – Self-awareness
We often do more wrong things in a day than we do good. Self-awareness allows me to make adjustments that lead to success and significance.
No. 3 – Passion for practice
My coaching philosophy is that practice prepares you for games and games prepare you for practice. Passion for practice is a performance enhancer.
No. 4 – Keen ability to think critically
Thinking critically is as important as breathing if you are a dependable athlete. There also is a need for fans that think critically.
No. 5 – High aptitude = intelligence
Aptitude is the ability to learn and apply. Knowing what to do without being able to do it makes you smart. Knowing what to do and being able to do it makes you intelligent.
The top 5 trite statements
Trite statements are shallow and overused to the point that they aren't empowering. These statements often are made when we don't know what else to say. The reality is that often times the best advice is no advice.
Hard work pays off
This is half true. Many people work hard and fall short everyday.
Hard work beats talent when talent doesn't work hard
Talent doesn't have to work hard because talent ranks above effort. Two totally different games here.
Stop thinking too much
Thinking critically always is in order especially when you are in the development stages. The Major Leagues also is a place of development for many of its players.
C'mon…give it your best
If I have doubt as a coach that a player isn't giving it his best, I'm not doing him any good by allowing him to be in the game. Asking you to give it your best in practice is one thing.
Don't worry about it
Worry is negative. However, being aware that you made a mistake and that there is a need to make an adjustment is always in order as an athlete.
My top 5 list of baseball equipment needed to be successful in the spring
Successful people are knowledgable, possess desire and good habits. They are also equipped to succeed and their success allows them to serve others in a significant way. Here is my top 5 list of baseball equipment needed to be successful in the spring 2016.
Tanner Tee
Tanner Tee Hitting Deck
Swing Away Hitting Machine
Hitting Jack It 
Gray Cook Band 
Top 5 hitting skill build drills
Great hitting drills are always simple and they are most effective when they are executed sequentially. The swing consists of seven parts. I will share five drills that will help you build habits and/or strength this winter for a successful spring 2016.
Stance/Load
Timing
Tempo
Tracking
Approach
Contact
Extension/Finish
Remember: Intelligence trumps being smart.
For more information, visit www.diamonddirectors.com today. Also, check out our Digital Magazine.
BIO
C.J. Stewart has built a reputation as one of the leading professional hitting instructors in the country. He is a former professional baseball player in the Chicago Cubs organization and has also served as an area scout for the Cincinnati Reds. As founder and CEO of Diamond Directors Player Development, CJ has more than 12 years of player development experience and has built an impressive list of clients, including some of the top young prospects in baseball today. If your desire is to change your game for the better, C.J Stewart has a proven system of development and track record of success that can work for you.