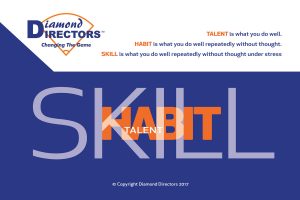 Good character habits are needed in order to become and remain a good hitter. Character is who you are and determines what you do, while habits are things that we repeatedly do.
"If you think that your Prius is a Hummer, you are going to get stuck. And if you think that your Hummer is a Prius, you are going to run out of gas." – Keith Eigel
There are six character habits that all hitters must master in order to become an elite hitter and person of significance:
Excellence – Meeting expectations
Humility – Not thinking of yourself less, so that you can serve others more
Integrity – Doing the right think, even when you can do the wrong thing
Loyalty – Doing the right thing for the right reasons, even if they're not popular
Stewardship – Protector of your values and people
Teamwork – Being your best within a group of people who are being their best for a specific purpose
With these values serving as your core, commitment and discipline will serve as the protective walls.
Commitment is making a promise to yourself to do something, and discipline is doing things you need to do, even when you don't want to do them.
There are seven parts to the swing. Remember, it takes 3,000 reps per part to build a habit. That's 21,000 reps to build a habit:
Stance/Load
Timing
Tempo
Tracking
Approach
Contact
Extension/Finish
If you are committed to having discipline, here's a simple Skill Build Drill you can do now to build a habit for Contact, Extension and Finish all in one drill.
For more information, visit www.diamonddirectors.com today. Also, check out our Digital Magazine, Changing the Game.
_____________________________________________________________________________
C.J. Stewart has built a reputation as one of the leading professional hitting instructors in the country. He is a former professional baseball player in the Chicago Cubs organization and has also served as an area scout for the Cincinnati Reds. As founder and CEO of Diamond Directors Player Development, CJ has more than 12 years of player development experience and has built an impressive list of clients, including some of the top young prospects in baseball today. If your desire is to change your game for the better, C.J. Stewart has a proven system of development and track record of success that can work for you.