Playing in the fall is the most important time of year because it is when your current skills as a hitter are assessed. After being assessed in the fall (August-October), you can set your goals for the spring and summer seasons.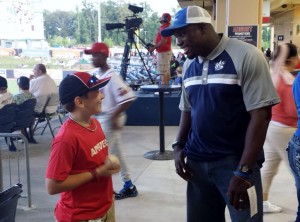 There are four things you must do in order to have a productive fall season:
Identify when you do things right
Figure out how to be consistent with it
Identify when you do things wrong
Make adjustments
Here are my top three things you should do "right" as a hitter:
Get loaded on time
Track the pitch
Drive the ball
These are all skills that take 3,000 reps to develop into a habit with quality drills. Here are three ways to repeat those three things:
Focus on the skill of timing rather than trying to get a hit
Focus on the skill of tracking rather than trying to get a hit
Focus on the skill of extension in order to drive the ball rather than trying to hit it 500 feet
The key to be consistent is to humble yourself so that you can focus. Arrogance leads to quick failure. There are three things that hitters do wrong in a game, including:
Not getting loaded on time
Not tracking the pitch as a result of not getting loaded on time
Not driving the ball as a result of not getting loaded on time
Anyone with vision can see a pitch. But tracking a pitch is a skill that determines where and how the pitch will cross the plate. Following are three adjustments that must be made in order to convert what you are doing wrong to doing it right:
Start in a loaded position to minimize being loaded too late or too early
Make an educated guess where the pitch will be
Hit the ball hard any where
You can hit a ball hard with maximum effort and luck. To drive the ball requires skillfully getting loaded on time and with good tempo maximizing extension.
During fall baseball, you deserve three months to assess your skills before you set your goals for the upcoming spring and summer seasons.
Remember: Good hitters don't work hard; they work smart.
For more information, visit www.diamonddirectors.com today.
BIO
C.J. Stewart has built a reputation as one of the leading professional hitting instructors in the country. He is a former professional baseball player in the Chicago Cubs organization and has also served as an area scout for the Cincinnati Reds. As founder and CEO of Diamond Directors Player Development, CJ has more than 12 years of player development experience and has built an impressive list of clients, including some of the top young prospects in baseball today. If your desire is to change your game for the better, C.J Stewart has a proven system of development and track record of success that can work for you.