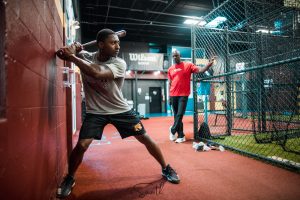 Words matter. There is a difference between talking and teaching. When coaches talk, players listen. When coaches teach, players learn. There are several types of learning styles. The most common are auditory, visual and kinesthetic.
Auditory learners best learn by conversation. Visual learners best learn by seeing, while kinesthetic learners need to do it.
I have been coaching hitters professionally for 22 years. Over the last five years, I've noticed that approximately 50% of my hitters are auditory learners, 25% visual and 25% kinesthetic.
Through the years, I've developed a lot of knowledge about these varying learning styles based on experience with hundreds of hitters. My development process for my hitters starts with a learning styles assessment.
I would argue that over 75% of Travel Baseball coaches are kinesthetic learners. The problem for hitters is that if you are an auditory and visual learner, you are going to have a challenging time learning from coach if he is a kinesthetic learner. That means he is unaware of the other learning styles.
Do you own research on learning styles. Determine which one suites you and which one your coach uses. Here's a great place to start.
To help keep your skills sharp, we have introduced a new type of Skill Build—our Virtual Skill Build, where I can help you develop hitting skills anytime, anywhere using anything. Check it out.
Remember: Intelligence tops being smart.
For more information, visit www.diamonddirectors.com today. Also, check out our Digital Magazine.
---
C.J. Stewart has built a reputation as one of the leading professional hitting instructors in the country. He is a former professional baseball player in the Chicago Cubs organization and has also served as an associate scout for the Cincinnati Reds. As founder and CEO of Diamond Directors Player Development, C.J. has more than 22 years of player development experience and has built an impressive list of clients, including some of the top young prospects in baseball today. If your desire is to change your game for the better, C.J. Stewart has a proven system of development and a track record of success that can work for you.