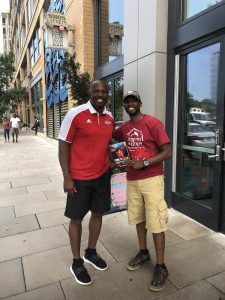 It's almost here. No, really it is. The time to prepare for your winter training starts now. For my hitters, the winter (November-January) is the time to build habits and strength. Remember, there are seven parts of the swing, and we take reps by the thousands for three months. Overall, it takes 3,000 reps to build a habit:
Stance/Load x 3,000
Timing x 3,000
Tempo x 3,000
Tracking x 3,000
Approach x 3,000
Contact x 3,000
Extension/Finish x 3,000
The fall (August-October) is when you try new things to see what works and what doesn't. Here are the three things that you should be doing now to prepare for winter:
No. 1 — Educate
There are seven parts of the swing and it takes 21,000 reps to properly assess your talent. Did you know that? Do you agree? Disagree? Don't take it from me, read "The Talent Code" by Daniel Coyle. I've read it twice. He teaches extensively about talent.
No. 2 — Investigate
What part(s) of the swing do you need to develop this winter to get ready for competition in the spring and summer? The fall is the best time to try new things to determine what works and what doesn't.
No. 3 — Dominate
"We have met the enemy and it is ourselves." Set your thinking to that mindset and go for it.
Set a goal.
Commit to it.
Discipline yourself.
Dominate.
Try something new this fall and support it with commitment and discipline. Commitment is a promised made and kept to yourself. Remember, it's self before team. Discipline is doing the things that must be done even when you don't want to do it.
Remain committed and disciplined this fall, build habits and strength, and watch as you reap the benefits. It won't be a dream—it will be real. That's what spring and summer is for.
Remember: Intelligence tops being smart.
For more information, visit www.diamonddirectors.com today. Also, check out our Digital Magazine.
---
C.J. Stewart has built a reputation as one of the leading professional hitting instructors in the country. He is a former professional baseball player in the Chicago Cubs organization and has also served as an area scout for the Cincinnati Reds. As founder and CEO of Diamond Directors Player Development, C.J. has more than 12 years of player development experience and has built an impressive list of clients, including some of the top young prospects in baseball today. If your desire is to change your game for the better, C.J. Stewart has a proven system of development and track record of success that can work for you.