Coaching is no doubt a sacrifice of time and energy, and the best coaches are called to serve. When I began my coaching career at East Cobb Baseball in 2000, it mainly was all about me and whatever was left of my energy was for the kids.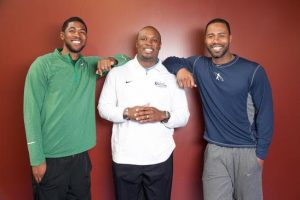 I wanted to build a name for myself based on the performance of young boys. We experienced several wins, but I couldn't explain to you how we were winning beyond the overused statement, "hard work pays off!"
I didn't know how to coach, and I really didn't need to as long as we were winning. All I needed to be successful was to be loud and intimidating to the parents and players. After all, I was a professional baseball player.
But I will be the first to tell you that being a professional baseball player doesn't mean that you know how to teach.
It's September and fall baseball is in full effect. My Diamond Directors clients are being developed with the understanding that the fall season (August-October) is the time to try new things, determine what works and also determine what doesn't work.
When I coached, winning games in the fall was good for three reasons:
Made me feel good
Winning feels good, and as a young and immature coach, losing felt horrible. It was personal. If we lost a game, I felt something was wrong with me. I would compromise the development of my players to win games.

Gave me something to talk about


Bragging is bad, but it felt good to me when we won. People may have called me a jerk behind my back, but in my presence, I wanted to talk about the tournament that we had just won and they couldn't fight the "W."
Build my own program
For over 20 years, East Cobb Baseball has been recognized as arguably the No. 1 youth baseball organization in the world. I wanted my East Cobb Seminoles team to receive specific recognition, and I felt the best way to do it was to win games. More recognition for my team meant special recognition for me. I didn't care how we won, I personally needed the win.
Thank God I have matured as a professional hitting coach and learned from my past. Here are three things you lose when you focus solely on winning in the fall:
Trying new things

– The fall (August-October) is the absolute best time to try new things to prepare for success in the spring (February-April). Are you a more productive power hitter when you hit with a toe-tap, high leg kick or bat wrap load? You won't know until you try. The irony is that when hitters go into week long slumps in the spring, they want to try something new to begin getting hits.
Determining what works – The desired outcome for hitters should be to hit the ball hard. Major Leaguers that hit the ball hard 50% of the time in games can expect to get a hit 30 percent of the time. If you choose a different load each at bat and the results are you hitting the ball hard, I recommend that you continue to switch it up. It's the fall for crying out loud. Development only occurs when you are failing and adjusting.

Determining what doesn't work

– We want to know what doesn't work in the fall (August-October) so that we can focus on building habits and strength based on what does work in the winter (November-January) so that we can achieve success in the spring (February-April). You will never know what doesn't work unless you try it. Prior to me becoming more mature as a hitting coach, I would always tell hitters that they couldn't have success wrapping the bat around their head during the load. Couldn't is such a strong word that suggests that something will never occur. The irony is that when my hitters got hits when they wrapped the bat, I hypocritically cheered for them.
Following are three loads you should attempt this fall to determine what works and what doesn't work by using a Tanner Tee (www.tannertees.com) and attempting to hit a target. If you can hit the target 20 percent of the time, your load is working.
Load – the what
Timing – the when to load
Tempo – the how to load
Tracking – because you successfully accomplished the three prior
1. Toe-Tap Load x 300 reps
Check out our YouTube video
2. High Leg Kick Load x 300 reps
Check out our YouTube video
3. Bat Wrap Load x 300 reps
Check out our YouTube video
Remember: Intelligence trumps being smart.
For more information, visit www.diamonddirectors.com today. Check out our Digital Magazine.
BIO
C.J. Stewart has built a reputation as one of the leading professional hitting instructors in the country. He is a former professional baseball player in the Chicago Cubs organization and has also served as an area scout for the Cincinnati Reds. As founder and CEO of Diamond Directors Player Development, CJ has more than 12 years of player development experience and has built an impressive list of clients, including some of the top young prospects in baseball today. If your desire is to change your game for the better, C.J Stewart has a proven system of development and track record of success that can work for you.