Only by the grace of God have I been lucky enough to be one of the top hitting coaches in America. While my experience as a professional baseball player has given me a foot in the door, my ability to communicate and understand how people learn, and the amazing array of valuable resources gets the rest of the job done. It all helps me teach with confidence. I was created for this.
The Hitting Lab is where I provide an intentional learning experience. From there, I can share the blueprint of success with amateur and professional baseball, and softball players. It's my own little Disney World.
I've never done this, but I'm going to reveal the equipment I use in my Diamond Directors Tool Box. Whether I'm in Atlanta, your city or another country, these tools are always with me. If you're serious about becoming an elite hitter, I recommend you put us on your holiday list. Here are seven training aids we use to make you better.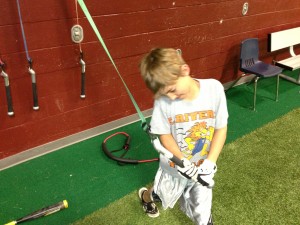 1. Dura-Bands 
Dura-Band is a revolutionary elastic exercise band. Its sleek, one-inch width and straight length design make it unique and less cumbersome to use. By binding multiple layers together, a tough, resilient band is formed, one of greater durability, hence the name Dura-Band.
2. Tanner Tees
More college and MLB players train with Tanner Tees than any other tee – period. In fact, MLB coaches say the hand-rolled ball rest is the closest you will get to live pitching, with the least interference at the contact point. There are multiple tee sizes to fit your needs, as well as a host of accessory options that can help enhance your training.
3. Swing Away
SwingAway makes some of the best hitting systems and hitting accessories around. The products are designed to deliver solutions to baseball and softball players serious about getting better. The company offers three different hitting systems, training aids and spare parts.
4. Gray Cook Bands 
The Gray Cook Band is an all purpose exercise band than can be used for chops, lifts, presses, PNF patterns and more.
5. Dartfish Video Analysis 
Dartfish integrates software and online tools a flexible, efficient and comprehensive match analysis system. The Dartfish Tagging solution makes it easy to find, review and analyse key sequences/moments in a game by using descriptive 'tags' that can be integrated from any number of contributing coaches/analysts using the most appropriate tool for their role. I use it to help analyze my players' swings.
6. Hitting JackIt 
The Hitting Jack-It is the only variable weighted hitting system on the market today. With its patented design the products will help develop proper swing mechanics for the hitter. The 9-ounce size develops bat speed, while the 12-ounce works on strength and the 16 oz. develops power.
7. Zepp Technology 
The Zepp Sensor and bat mount were designed to stay out of your way so you can swing like you normally do. You won't even feel it. For the first time, you can see your swing in three dimensions from any angle and get instant actionable feedback.
8. Pro Cuffs
Invented by former MLB player Delino DeShields, Pro Cuffs help in the two most important areas of our sport: hitting and fielding. The Pro Cuffs maximize a player's power, swing speed and mechanics through repetition training and helps a hitter finish his or her swing by insuring a proper, powerful hip turn.
Well, that is my trusted listed of equipment – the ones that get the job done for all my clients. Equipment without programming is just a novelty. For information on the programs I use in my Tool Box, contact Kelli Stewart at Kelli.Stewart@DiamondDirectors.com.
Remember: Good hitters don't work hard; they work smart.
For more information, visit www.diamonddirectors.com today.
BIO:
C.J. Stewart has built a reputation as one of the leading professional hitting instructors in the country. He is a former professional baseball player in the Chicago Cubs organization and has also served as an area scout for the Cincinnati Reds. As founder and CEO of Diamond Directors Player Development, CJ has more than 12 years of player development experience and has built an impressive list of clients, including some of the top young prospects in baseball today. If your desire is to change your game for the better, C.J Stewart has a proven system of development and track record of success that can work for you.