I am a Christian. That doesn't mean I'm perfect, but it does mean there are certain rules and principles that govern my life, such as tithing.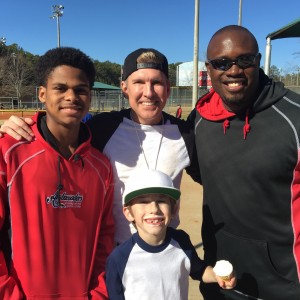 Tithing states that I'm supposed to give the first of my very best to The Lord – be it my time, talent or my treasure. The tithe is the best of my time – not the left over part of it. It's the elite part of me that God wants – not what's left over.
I have far too many people who tell me, "My son's not elite enough to work with you."
That's really unfortunate to hear. That's like me telling God that I really want to serve him, but I'll wait until I'm perfect, and then sign up for the Christian Jubilee. God knows I'm not perfect. That's why He has a Divine Plan that allows me to be in relationship with Him.
In the same way, the destination for my clients is "elite." They aren't there when they first come to me, but God has blessed me with a Divine Gift that allows me to direct my clients from where they are to the destination they want to be.
Tip of the Week: Stance 
No, I can't unequivocally promise an outcome, but I can unequivocally promise that if you don't have a target your aim will always be off.
Being elite is not a destination- it's a mindset. And it's a mindset you must have to be the best ballplayer, husband, father, businessman, Deacon, etc., you can be.
So, if you want to work with me, here's the deal: God doesn't want your leftovers – and neither do I.
#DropTheMic
Remember: Good hitters don't work hard; they work smart.
For more information, visit www.diamonddirectors.com today. Also, please check out our eMagazine.
BIO
C.J. Stewart has built a reputation as one of the leading professional hitting instructors in the country. He is a former professional baseball player in the Chicago Cubs organization and has also served as an area scout for the Cincinnati Reds. As founder and CEO of Diamond Directors Player Development, CJ has more than 12 years of player development experience and has built an impressive list of clients, including some of the top young prospects in baseball today. If your desire is to change your game for the better, C.J Stewart has a proven system of development and track record of success that can work for you.