Remember the famous words of NBA superstar Allen Iverson talking about practice?
"We're talking about practice. We ain't talking about the game. We're talking about practice, man. When you come to the arena, and you see me play, you see me play don't you? You've seen me give everything I've got, right? But we're talking about practice right now. We talking about practice."
When Allen Iverson made this statement, he was a skilled basketball player full of knowledge, desire and good habits. To his benefit, he had more than 10,000 hours of basketball practice and game experience. He had skills that we couldn't even dream about.
I can't really think of any skill in the world that isn't developed and maintained by practice. You couldn't read this blog without learning how to read by way of practice. You can't even learn to be lazy without practice.
Practice usually is boring when it isn't methodical. The most common approach to developing hitters is to hit as many balls per day, until you're tired or your hands begin to bleed. For every one hundred hitters who train this way, by accident, at least 10 of them can develop the hitting ability to compete on their high school team. Maybe three out the 10 can go on to compete in college, with one lucky guy playing at the professional level.
How tragic would it be if we used this method of development to teach pilots how to fly airplanes?
There are four parts of your swing:
Stance/Load
Approach
Contact
Extension/Finish
Those four parts are supported by Timing, Tempo and Tracking.
Timing is when you Load.
Tempo is how you Load.
Tracking confirms or rejects what's next – Approach, Contact and Extension/Finish.
I can't map out the development of your swing any simpler than that. But here is how we separate the elite hitters from everyone else.
Tip of the Week – Swing Assessment 
It requires 3,000 reps to develop a habit and without good habits you won't develop habits or experience success.
Stance/Load x 3,000 reps
Timing x 3,000 reps
Tempo x 3,000 reps
Tracking x 3,000 reps
Approach x 3,000 reps
Contact x 3,000 reps
Extension/Finish x 3,000 reps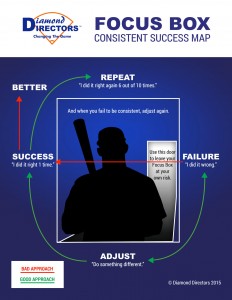 The key is using practice time to work on the right things at the right time. All good practice must be tested to ensure that its good practice. How do you test practice? You test practice in your game.
Games are a source of stress for undisciplined hitters. Getting a hit is how they measure success. That's a problem because success in baseball is measured based on how often you fail.
This is how my Diamond Directors clients think:
Failure – "I did it wrong"
Adjust – "Do something different"
Success – "I did it right 1 time"
Repeat – "I did it right again 6 out of 10 times"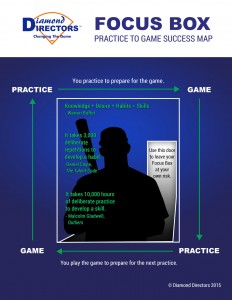 And when you fail to be consistent, adjust again…
In one of my favorite books, Outliers, author Malcolm Gladwell says it takes a minimum of 10,000 hours of deliberate practice to develop a skill. Multi-billionaire Warren Buffet says success is the result of knowledge, desire and habits.
The game is a test that tells you what to work on in your next practice. Until you reach the Major League level, your games are practice as well.
This blog isn't "out of the box" thinking. If you're intelligent, I recommend you stay inside my box of thinking.
Major League Baseball is in need of more season ticket holders than players, so if you want to compete on the field at the highest level, you better practice and play games with an effective mindset.
Remember: Good hitters don't work hard; they work smart.
For more information, visit www.diamonddirectors.com today. Also, please check out our eMagazine.
BIO
C.J. Stewart has built a reputation as one of the leading professional hitting instructors in the country. He is a former professional baseball player in the Chicago Cubs organization and has also served as an area scout for the Cincinnati Reds. As founder and CEO of Diamond Directors Player Development, CJ has more than 12 years of player development experience and has built an impressive list of clients, including some of the top young prospects in baseball today. If your desire is to change your game for the better, C.J Stewart has a proven system of development and track record of success that can work for you.