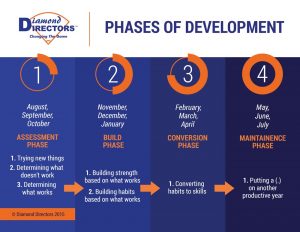 I have ADHD, so being able to focus was very important to me in order to be effective as a player. Focus is still essential for me today as a coach, where I have sequential phases of development so that my hitters have the best chance to reach their goals each season (which starts in August).
From August through October, my hitters are committed to trying new things to determine what works and what does not. During the final weeks of July, it is about committing to maintaining your skills. A skill is what you repeatedly do without thought while under stress.
One skill that all elite hitters have is the ability to track pitches. Here's a simple Tracking Drill you can execute for 1,000 reps in July to help maintain that ability.
Remember: Intelligence tops being smart.
For more information, visit www.diamonddirectors.com today. Also, check out our Digital Magazine.
---
C.J. Stewart has built a reputation as one of the leading professional hitting instructors in the country. He is a former professional baseball player in the Chicago Cubs organization and has also served as an area scout for the Cincinnati Reds. As founder and CEO of Diamond Directors Player Development, C.J. has more than 12 years of player development experience and has built an impressive list of clients, including some of the top young prospects in baseball today. If your desire is to change your game for the better, C.J. Stewart has a proven system of development and track record of success that can work for you.