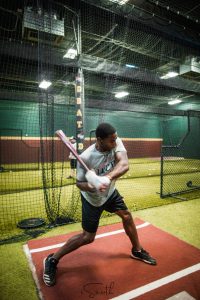 I remember driving a car on the highway for the first time. I was terrified. My driving experience started at an empty parking lot, before I graduated to driving through our neighborhood, on busy streets and now the highway.
Similar to becoming a great hitter, you must try new things to develop self-confidence. Once you have self-confidence, things get simple. That is when you can achieve repeated success with speed.
Coaches often tell their players to be confident in themselves. I argue that self-confidence only comes when you do stuff that is tough.
It is ridiculous to tell yourself to be confident in your ability to hit a 90-MPH fastball if you have never seen one. Thus, you should go into that at-bat focused on gaining confidence rather than succumbing to the pressure of getting a hit. The hits will come as you prove to yourself that you can actually do what you believe you can do.
I have a tough drill for you to do.
Get 10 Wiffle balls
Set a target 10 feet away on a fence that is 5 feet off the ground
Toss the Wiffle ball up and hit the target 9 out of 10 times
I am sure you are confident that you can do that. Now do it.
To help keep your skills sharp, we have introduced a new type of Skill Build—our Virtual Skill Build, where I can help you develop hitting skills anytime, anywhere using anything. Check it out.
Remember: Intelligence tops being smart.
For more information, visit www.diamonddirectors.com today. Also, check out our Digital Magazine.
---
C.J. Stewart has built a reputation as one of the leading professional hitting instructors in the country. He is a former professional baseball player in the Chicago Cubs organization and has also served as an associate scout for the Cincinnati Reds. As founder and CEO of Diamond Directors Player Development, C.J. has more than 22 years of player development experience and has built an impressive list of clients, including some of the top young prospects in baseball today. If your desire is to change your game for the better, C.J. Stewart has a proven system of development and a track record of success that can work for you.