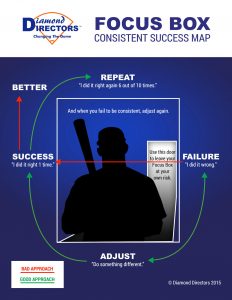 "Trying ain't doing." How many times have you heard that saying?
When it comes to making adjustments in your hitting, that's not something you try to do. You must "do it" in order to achieve success. Making an adjustment is simple. It really is.
Think about it like this – If you do anything different than what you're currently doing wrong that's making an adjustment. And adjustments lead to success.
Success – hitting a line drive
What you are doing – hitting lazy fly balls
What you need to do – hit a ground ball
It's difficult for many of us to make adjustments, because it's not often acknowledged. Failing and doing things right get the most attention. Failing forward is what making adjustments is all about.
One of my clients recently was in Diamond Directors' Hitting Lab with me working on hitting a target 60 feet away. I'd put the balls on the Tanner Tee and, without instruction, give him the space to think and figure out how to achieve success by hitting the target.
He began to get frustrated, as most hitters do.
Frustration
Focus
Failure
Feedback
I coached him contextually, which helps him understand that frustration is evidence of a lack of focus. Focus means you are aware that failure isn't final.
Failure is feedback. It lets you know what to do next. The "what's next" for focused hitters is the ability to make an adjustment. Do something different than what you're doing.
My client told me he was trying to make an adjustment and it caused me to pause.
Son, either you are making adjustments or you're not. You don't try to make adjustments. You are stuck on trying to fix what you're doing wrong. You're trying to be right, and that's your problem. He continued the drill and hit the target by accident 20 out of the next 50 times.
Remember: Intelligence trumps being smart.
For more information, visit www.diamonddirectors.com today. Also, check out our Digital Magazine.
BIO
C.J. Stewart has built a reputation as one of the leading professional hitting instructors in the country. He is a former professional baseball player in the Chicago Cubs organization and has also served as an area scout for the Cincinnati Reds. As founder and CEO of Diamond Directors Player Development, CJ has more than 12 years of player development experience and has built an impressive list of clients, including some of the top young prospects in baseball today. If your desire is to change your game for the better, C.J. Stewart has a proven system of development and track record of success that can work for you.