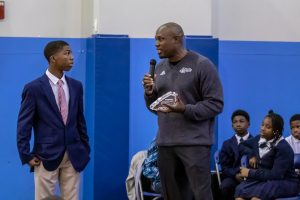 Is timing important? I think so. Millions of young boys and teenagers dream of becoming Major League Baseball players. They see themselves getting the game winning hit in the World Series. They see themselves signing autographs before leaving the stadium in their luxury cars.
Following are three reasons why I believe timing is important and how you can make it a priority on your agenda:
Context — The why
Content — The what
Contest — The when
Context
Many boys never become Major Leaguers because they don't have a strong enough "why." Their success will only be good for themselves without benefiting others.
Content
What you need to learn happens after you realize why you need to learn it. I'm very passionate about coaching because it's what God has called me to do. Therefore, I read 12-15 books per year so that I can be a great coach. If you don't read, you won't succeed.
Contest
Too many moments to become great are missed and not taken advantage of every day. I want my players to win on the field, but I also want them to win at the game of life.
Life is complex, but it's not complicated. That's why you need a good coach. Before the word coach was used in the context of sports, it was reserved strictly for transportation. There was a horse, a coachman and a coach. The coachman controlled the horse, and the coach was where the passengers rested and waited. A coach transported you to where you were supposed to be. Today in sports, coaches fail to get players to their destination because of the fear of accountability, among many things.
Here are some questions you should ask yourself today to help determine the timing of your decisions that will dictate your future:
When is the best time to find a new coach?
When is the best time to set goals?
When is the best time to try new things that will improve my swing?
When is the best time to build hitting habits?
When is the best time to develop good timing for hitting?
When is the best time to convert my hitting habits to skills?
When is the best time to maintain my hitting skills?
Remember: Intelligence tops being smart.
For more information, visit www.diamonddirectors.com today. Also, check out our Digital Magazine.
---
C.J. Stewart has built a reputation as one of the leading professional hitting instructors in the country. He is a former professional baseball player in the Chicago Cubs organization and has also served as an area scout for the Cincinnati Reds. As founder and CEO of Diamond Directors Player Development, C.J. has more than 12 years of player development experience and has built an impressive list of clients, including some of the top young prospects in baseball today. If your desire is to change your game for the better, C.J. Stewart has a proven system of development and track record of success that can work for you.