If you want to reach your full potential as a hitter – you better spend time developing your swing mechanics, timing and tempo. That's three separate buckets of drills.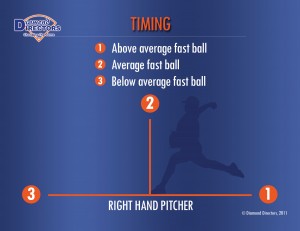 Millions of hitters spend hours every day working to develop consistent swing mechanics, while less than 2 percent of those hitters work on timing and tempo to support the swing mechanics.
When does a seat become a chair? It becomes a chair when you add legs. The front two represent timing, while the back two represent tempo.
Timing is when you get loaded – tempo is how you get loaded.
The thing is that timing is really simple to develop if you spend time developing it. Remember what we say – to develop a habit, it requires 3,000 reps. And sure, I know I just lost every hitter that lacks work ethic. But for those who remain committed to a cause paved with hard work, keep reading.
Pitchers should be categorized as having an above average fastball, average fastball and below average fastball. If the pitcher's fastball is above average to you, be ready and on time to complete your swing. If you are, you'll hit that fastball. You'll always be on time to adjust to off speed and breaking pitches.
You can get quality reps developing great timing using your girlfriend, teammate or the batboy. All they have to do is start/complete the pitching delivery without throwing a baseball. All you have to do is get loaded for an above average fastball, average fastball and below average fastball.
It's pretty simple. Mastering the skill of timing occurs without a baseball being thrown. When the ball is thrown, you must depend on the skill of tracking the pitch and how fast your body should move based on the speed of the pitch. We'll examine that in future blogs.
To master timing, here's your assignment to reach 3,000 reps in 10 weeks:
Take 300 reps per week (100-above average fastballs, 100-average fastballs and 100-below average fastballs)
Remember: Good hitters don't work hard; they work smart.
For more information, visit www.diamonddirectors.com today.
BIO:
C.J. Stewart has built a reputation as one of the leading professional hitting instructors in the country. He is a former professional baseball player in the Chicago Cubs organization and has also served as an area scout for the Cincinnati Reds. As founder and CEO of Diamond Directors Player Development, CJ has more than 12 years of player development experience and has built an impressive list of clients, including some of the top young prospects in baseball today. If your desire is to change your game for the better, C.J Stewart has a proven system of development and track record of success that can work for you.