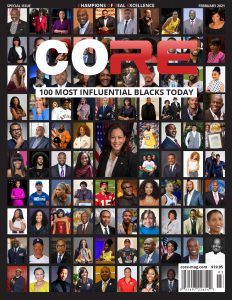 On April 28, 2019, Charles Jenkins gave a sermon at my home church, Elizabeth Baptist Church, about the three seasons of life: running, reaping and reciprocation.
Running Season — Faint Not and let us not be weary in well doing
Reaping Season — Heavenly Blessings come through Human Hands
Reciprocating Season — Blessed to be a Blessing
I define success as the achievement of a goal. On the way to achieving a goal, you must avoid being stupid and remain strong during the course of your struggle.
Success must be embraced because it is earned. On the other hand, luck and chance are not earned. How do you define success? What is a successful season for you? What have you done to be successful this season?
I was recently recognized by CORE Magazine as one of its "Top 100 Most Influential Black People Today." I've earned this recognition. Yes, I've done stupid things along the way and had to humble myself. But I remained strong while struggling to achieve my goal to become one of the top professional baseball coaches in America.
Now that I have so much success and influence, I'm in a great position to use my success to serve others.
In our next blog, I'll share why I'm significant.
To help keep your skills sharp, we have introduced a new type of Skill Build—our Virtual Skill Build, where I can help you develop hitting skills anytime, anywhere using anything.
Remember: Intelligence tops being smart.
For more information, visit www.diamonddirectors.com today. Also, check out our Digital Magazine.
C.J. Stewart has built a reputation as one of the leading professional hitting instructors in the country. He is a former professional baseball player in the Chicago Cubs organization and has also served as an associate scout for the Cincinnati Reds. As founder and CEO of Diamond Directors Player Development, C.J. has more than 22 years of player development experience and has built an impressive list of clients, including some of the top young prospects in baseball today. If your desire is to change your game for the better, C.J. Stewart has a proven system of development and a track record of success that can work for you.