If I had to spend most of my time working on one part of my swing this month, it would be the load phase. Getting loaded on time allows you to track (rather than see) the pitch and complete the swing with a chance to drive the ball. Driving the ball requires good mechanics, while hitting the ball hard requires effort.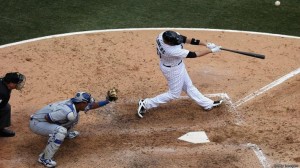 Getting loaded properly is simple for hitters that are committed to building and maintaining the skill. Remember: It requires 3,000 reps in the building phase of this habit; 3,000 reps to convert the habit to a skill; and another 3,000 reps to maintain the skill.
There is no way around it – you must be strong enough to perform the load skill. Here are three simple exercises that you can do at home to build strength so that you can load properly and get lots of hits. Watch a YouTube video here.
No. 1 – Shoulders
The first action of the load is to trigger your hands back between your back shoulder and back ear. From this position, you can easily launch the bat to the ball using your hands with speed and direction producing power. When your hands are below your shoulder during the trigger, it forces your shoulders to direct the bat to the ball. That generally results into a long approach and bad contact (or no contact). Good hitters have strong shoulders in order to trigger the hands into a good launch position.
The deal – Committed hitters should complete 300 push-ups per week in order to develop/maintain strength for a strong load.
No. 2 – Stride
The stride should result with:
A. Your feet being aligned
B. Your feet being a bats length
C. Your front heal being engaged into the ground so that you can begin tracking the pitch before the approach. Good hitters need strong hip flexors to stride properly during the load to produce power.
The deal – Committed hitters should complete 300 leg lifts (each leg) per week in order to develop/maintain strength for a strong load. Lay on your side and lift your leg up slowly to eye level with control.
No. 3 – Sit
This exercise is simple. All you have to do is sit in a chair, trigger your hands back between your back shoulder and ear, and stride with your front foot in a straight line the length of the bat with your heel down 300 times per week. If your hands go back and your foot goes forward without moving your torso, there will be no need to try to keep your back because it will stay back giving you the best opportunity to track the pitch and complete the swing to drive the baseball.
Remember: Good hitters don't work hard; they work smart.
For more information, visit www.diamonddirectors.com today.
BIO
C.J. Stewart has built a reputation as one of the leading professional hitting instructors in the country. He is a former professional baseball player in the Chicago Cubs organization and has also served as an area scout for the Cincinnati Reds. As founder and CEO of Diamond Directors Player Development, CJ has more than 12 years of player development experience and has built an impressive list of clients, including some of the top young prospects in baseball today. If your desire is to change your game for the better, C.J Stewart has a proven system of development and track record of success that can work for you.