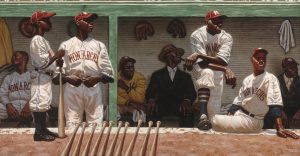 Editor's note: This is the second in a two-part series on the importance of coaches being diligent, making and keeping promises, and giving players space to learn.
No matter what the circumstances, a good coach must be diligent (see "The power of Diligence and What it Means to You"), make and keep promises, and give students space to learn.
No. 2 — Making and keeping promises
Making promises scare coaches who are not diligent. This was mantra I coached by in my earlier and immature days.
Scream & Dream
This is when you yell instructions at your players while they are at the plate, knowing full well you have not really prepared them for success.
Hit & Get
This is when you give players tons of reps and expect them to get a hit every at bat simply because they received tons of reps.
Hope & Cope
This is when your hope for success for your players as a coach is stronger than your baseball coaching acumen. You lean on the "We'll get 'em next time" philosophy to cope with the failure.
As we have discussed, before the word coach was used in sports, it was only used as a means of transportation. There was a horse and a coachman to stir the horse. The coach was the place where the passengers rested until they arrived to their destination.
Make promises to your players and keep them. If you cannot, keep your mouth closed during the game.
I promise not to scream and dream like Coach C.J.
I promise not to coach by the "hit and get" mantra.
I promise not to use the "hope and cope" strategy.
I promise to have a S.M.A.R.T. Goal that leads to a win.
As a coach, I promise I will receive coaching.
No. 3 — Giving players the space to learn
Coaches, for the love of God, give your players the space to learn. There is no better place to teach than at practice and there is no better way to learn than making mistakes.
You coach in games with extremely high levels of emotion is an indication that you are teaching at practice.
Back in the day, NFL coaches wore suits during games. NBA coaches still do. Do you know why MLB managers wear uniforms like the players? Because they used to play in the games. They were on the rosters.
I would be remiss if I did not pay homage to the Negro League managers who were dressed to the nines when they managed games. On Feb. 13, 1920, Andrew "Rube" Foster led eight independent Black baseball team owners into a meeting held at the Paseo YMCA in Kansas City, Missouri.
Out of that meeting came the birth of the Negro National League, the first successful, organized professional Black Baseball League that provided a playing field for African-American and Hispanic baseball players to showcase their world-class baseball abilities.
The Negro Leagues would operate for 40 years, becoming a catalyst for economic growth in African-American communities across the country and helped spark social change in America.
To help keep your skills sharp, we have introduced a new type of Skill Build—our Virtual Skill Build, where I can help you develop hitting skills anytime, anywhere using anything. Check it out.
Remember: Intelligence tops being smart.
For more information, visit www.diamonddirectors.com today. Also, check out our Digital Magazine.
---
C.J. Stewart has built a reputation as one of the leading professional hitting instructors in the country. He is a former professional baseball player in the Chicago Cubs organization and has also served as an area scout for the Cincinnati Reds. As founder and CEO of Diamond Directors Player Development, C.J. has more than 12 years of player development experience and has built an impressive list of clients, including some of the top young prospects in baseball today. If your desire is to change your game for the better, C.J. Stewart has a proven system of development and track record of success that can work for you.