Habeeb Akande once said, "The best winners are the worst losers." I love this quote because it speaks to how shallow people can be. We want to win, but oftentimes we're not willing to do what it takes to win.
I've been a professional baseball coach since 1998. In 2007, my wife Kelli and I started L.E.A.D. Inc. (Launch, Expose, Advise, Direct) to increase the number of African-Americans who compete as collegiate student-athletes in "America's Favorite Pastime," baseball.
Today, our mission is to empower an at-risk generation to lead and transform their city of Atlanta by using the sport to teach Black boys how to overcome "three curveballs" that threaten their success: crime, poverty and racism.
Coaching African-American boys oftentimes has posed a challenge for me because many of them admittedly have their baseball talent diminish in the presence of white opponents. They wrestle with doing more than is expected to prove they're as good and better than their white counterparts, mostly because of how African-Americans are negatively portrayed on and off the baseball field.
Whether we like it or not, race matters in America. As a coach for coaches and athletes, I have dedicated my life to helping both of them win at the game of life using baseball as a vehicle.
Here are some questions I recently asked L.E.A.D. Coach Quinterus "Q" Vancant and L.E.A.D. Ambassador Quavious Hancock.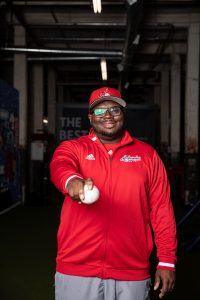 Coach Q
How do you know when teams you coach will lose the game they're playing?
When the team morale is low and the team is not focused. Baseball is one of the most difficult sports to play and it requires a lot of mental strength to be successful. When a team is not focused their mind is not on the game at hand. A lot of things can cause this: It could be from having a bad day to not getting enough rest the night before.
Not focusing on your at-bats or making the next play on defense does not equal success. With low team morale, the game is lost before you even step on the field. Baseball is a "team" sport. Low morale creates a selfish mentality. With that selfish mentality, it creates distrust in teammates to make a play, lack of communication on field and in the dugout, and drama among the team.
Ask yourself this question: How can you win a game when you're steady in competition with yourself and teammates?
What are the Top 3 qualities of a winning team and what must be done for majority Black high school age baseball teams to become winning teams?
Being coachable — Every winning team consists of a group of players who are willing to learn the game and get better in every aspect.
Discipline — Winning teams show discipline in different ways. Players show discipline by handling business in the classroom. Players show up on time. Players are disciplined on what they eat and when they eat it. Players also show discipline when making an error or striking out. Those players are disciplined enough to make adjustments.
Unity — Successful teams understand how to be together as a team. They understand it takes each individual to have success. Everyone plays a role, and with every role is the building blocks to the structure of a successful program.
For the majority of Black high school age baseball teams to become winners, they need resources, support and quality coaches. I've been playing baseball since I was 5. I'm a product of the Atlanta Public Schools System. With my experience as a student, athlete and coach, I have a first person perspective on what is needed. If baseball was supported and each school was given equal resources, it would create an environment that would increase participation. Now that players are participating, let us ensure they're led by coaches who know the sport. If players have coaches who teach them the game, we can focus on being coachable, being disciplined,and building team unity.
Once this happens programs will begin to succeed.
Who is the example of a winner and what makes them a winner?
My mentor, Thomas Gumes. He is someone who has reached success. Thomas has been a role model to me since high school, where he was my baseball coach at Benjamin E. Mays High School. He has shown me that black men can be successful in the education field. He has shown me that marriage can exist among black families. He has identified his passion in life and has created a purposeful pathway to pursue.
He currently is an EIP teacher in Fulton County and tutors students on the side to ensure success in the classroom.
What is your favorite pitching drill?
It's the Toe Tap Drill, which works on improving balance mechanics. The drill can be done with or without a ball, outside or in your bedroom.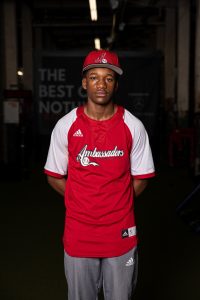 Quavious Hancock
How do you know when teams that you play on will lose the game that they are playing?
Once I see there isn't any connection among the team giving half effort and exhibiting no confidence.
What are the top three qualities of a winning team and what must be done for majority Black high school age baseball teams to become winning teams?
Dedication, practice and teamwork.
Who is the example of a winner and what makes them a winner?
My mom because she always finds a way and stays positive when times are hard.
What is your favorite pitching drill?
The Balancing Drill.
To help keep your skills sharp, we have introduced a new type of Skill Build—our Virtual Skill Build—where I can help you develop hitting skills anytime, anywhere using anything. Check it out.
Remember: Intelligence tops being smart.
For more information, visit www.diamonddirectors.com today. Also, check out our Digital Magazine.
C.J. Stewart has built a reputation as one of the leading professional hitting instructors in the country. He is a former professional baseball player in the Chicago Cubs organization and has also served as an associate scout for the Cincinnati Reds. As founder and CEO of Diamond Directors Player Development, C.J. has more than 22 years of player development experience and has built an impressive list of clients, including some of the top young prospects in baseball today. If your desire is to change your game for the better, C.J. Stewart has a proven system of development and a track record of success that can work for you.