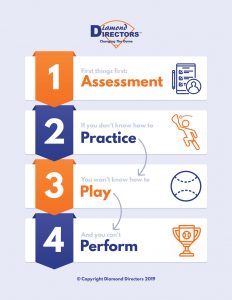 I recently watched a local high school JROTC Drill Team perform and it taught me something. As I watched the 12-15 students perform with heavy rifles in hand, I prayed that nobody dropped theirs. Halfway through the performance, a young man tossed his rifle in the air, and when it came down, he dropped it. I watched his face. It remained focused as he picked the rifle up and returned to his position without missing a beat.
There was no response from the other students. They continued to perform.
When they finished, I wondered why they did not help him. My wife, Kelli, who was on a nationally ranked high school JROTC Drill Team, told me there was two reasons they did not help. First, they didn't drop the rifle, he did, so he should be the one who picked it up and continued. Second, each member has a specific job to do, which does not include helping others.
Too many baseball players cannot individually perform because they are too worried about helping teammates who do not perform. This focus becomes a negative distraction, preventing them from performing and thus hurting the team.
I define teamwork as individuals working in excellence for a specific goal. Excellence is meeting expectations. The specific goal is often to win the game.
Mature players should understand that practice prepares you for performance and performance prepares you for practice.
What baseball skills do you currently have that you can rely on that show up without fail every game?
Can you teach your teammates to perform like you based on your skill set?
How do you feel when your teammates do not perform as well as you?
Performance is learned by practicing under pressure. How do you practice under pressure so that you can perform?
Significance is the usage of your success to serve others. Can your performance (positive body language and action) be a better teacher to your teammates rather than you talking?
Remember: Intelligence tops being smart.
For more information, visit www.diamonddirectors.com today. Also, check out our Digital Magazine.
---
C.J. Stewart has built a reputation as one of the leading professional hitting instructors in the country. He is a former professional baseball player in the Chicago Cubs organization and has also served as an area scout for the Cincinnati Reds. As founder and CEO of Diamond Directors Player Development, C.J. has more than 12 years of player development experience and has built an impressive list of clients, including some of the top young prospects in baseball today. If your desire is to change your game for the better, C.J. Stewart has a proven system of development and track record of success that can work for you.