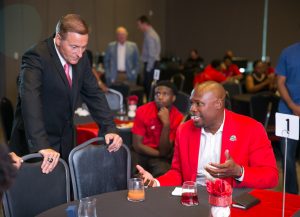 Matthew 4:23-25 Matthew tells us the hallmarks of Jesus ministry as he traveled throughout Galilee: teaching in their synagogues, preaching the good news of the kingdom, and healing every disease and sickness among the people (4:23).
Teaching involves clearly articulating the content of the message.
Preaching includes calling for a response to what is taught.
Healing consists of a visible demonstration of the power of the message.
Tony Evans once said, "As Jesus did these things, the news about him spread, and large crowds followed him (4:24-25). When he taught, preached, and healed, there was standing room only."
As coaches, we struggle to understand the difference between talking and teaching let alone understanding the difference between teaching and preaching.
He who owns the definition owns the movement. As a follower of Christ, I have been called and gifted to coach. Ultimately, I have the responsibility to transform people.
So let's break this sentence down that I shared so that we can do a better job of transforming hitters. "As coaches, we are struggling to understand the difference between talking and teaching. Let alone, understanding the difference between teaching and preaching."
Coach
Before the word coach was used in sports, it was only used as a means of transportation. There was a horse and a coachman to stir the horse. The coach was the place where passengers rested until they arrived at their destination.
Struggle
To struggle is an effort to achieve a goal while experiencing setbacks due to mistakes made out of ignorance.
Understand
To understand something is to also be able to do something.
Ignorance — I don't know what to do.
Smarts — I know what to do but I cannot execute it.
Stupidity — I know what to do and how to execute but I won't do it as an act of selfishness, defiance, etc.
Intelligence — I know what to do, I can do it and I will do it as an act of service to others.
Talk
Talk is cheap and everybody can afford it. When coaches talk, people can listen. The problem here is there is a difference between listening and learning.
Listen — I hear you, but I cannot do anything with what I hear.
Learning — I understand you and I can do something with what I've learned.
What happens when two people are speaking to each other in a different language? Both are talking. Both are listening. But are they learning from each other? You get the point.
Teach
Teaching is for the purpose of learning. But we often have to be inspired to do something with what we've learned.
Preach
Preaching to teaching is like gasoline on a flame. A fire covers more ground when mixed with gasoline.
Did you know that the Latin word for passion is suffering? So whatever you suffer from you become passionate about. Your passion is the fire that fuels your life purpose. Your passion is sustained by grit, which is the relentless pursuit of purpose. That grit is the gasoline you want constantly poured your fire, the passion.
"Sometimes, the enemy of competence is confidence."
The purpose of this blog is to help coaches understand that preaching supersedes teaching. This sermon I am preaching was inspired by one of my L.E.A.D. Coaches, Desmond Stegall, during one of my recent L.E.A.D. Coaches Certification sessions.
We must inspire our hitters to become great, and that must be caught and not taught. That must be modeled by us for them.
How do you define Coach, struggle, understand, talk, teach and preach?
Who preaches to you so that you can live on purpose?
What are the last three books you have read?
What do you need to do with what you've learned from those three books you haven't done already?
Here's my sermon in three sentences:
Listen to the words that you use. Make sure you know the definition of the words you use. Model the words you use.
To help keep your skills sharp, we have introduced a new type of Skill Build—our Virtual Skill Build, where I can help you develop hitting skills anytime, anywhere using anything. Check it out.
Remember: Intelligence tops being smart.
For more information, visit www.diamonddirectors.com today. Also, check out our Digital Magazine.
---
C.J. Stewart has built a reputation as one of the leading professional hitting instructors in the country. He is a former professional baseball player in the Chicago Cubs organization and has also served as an associate scout for the Cincinnati Reds. As founder and CEO of Diamond Directors Player Development, C.J. has more than 22 years of player development experience and has built an impressive list of clients, including some of the top young prospects in baseball today. If your desire is to change your game for the better, C.J. Stewart has a proven system of development and a track record of success that can work for you.