Without a good development structure, there is no sound development. I'm not even sure that you can even have fun doing anything if there is no structure.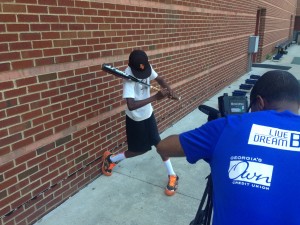 There are three reasons why there is a lack of structure for development for baseball players of all ages (from Little League to the pros).
Not knowing better from the player and/or coach
Knowing better but not doing better by the player and/or coach
Not doing better by the player and/or coach
This is the sad truth and something I will defend based on my 15-plus years of developing elite hitters. I have improved each year as a coach and, in the beginning I didn't provide structure to my clients because I didn't know better. Guess what? I know better now, which is why I do better now. So, let's go.
As a player and/or coach, I am here to tell you that your summer development should be structured based on four walls – and one ceiling – that promote focus.
The Ceiling
"Character cannot be developed in ease and quiet. Only through experience of trial and suffering can the soul be strengthened, ambition inspired, and success achieved." – Helen Keller
If you don't have good character, there is nothing good you will ever do as a hitter that will outlast you being a bad person.
The Four Walls
One of the four walls represents the "wrong" that you will experience as a hitter. There is no escaping failure in baseball. If you cannot come to grips with that fact, learn to fly a kite.
The great hitters turn from the wall of "wrong" to the wall of "making adjustments" quickly. When you recognize you have done something wrong, you must do something different quickly that will lead to the "right thing."
The wall of doing the "right thing" is based on knowing the desired outcome before you get started in the first place. Getting a hit is desired, so you must get in good position on time to get a hit. Professional hitters get into a good position to hit 90 percent of the time. Most fail when they face this wall because when they do the "right thing," they try to do it better the next time. How about you?
After making 90-degree right turn from the wall of "wrong," to the wall of "making adjustments," to the wall of the doing the "right thing, face the wall of "being consistent." Being consistent simply means doing it again. When it's right, you can't do it better. Right is right.
Now this is structure for dedicated hitters. The results of this structure yields sustainable success as well.
All you must do is recognize what you're doing wrong so that you can make the adjustment quickly, which leads to doing right thing and focusing on being consistent.
Remember: Good hitters don't work hard; they work smart.
For more information, visit www.diamonddirectors.com today.
BIO
C.J. Stewart has built a reputation as one of the leading professional hitting instructors in the country. He is a former professional baseball player in the Chicago Cubs organization and has also served as an area scout for the Cincinnati Reds. As founder and CEO of Diamond Directors Player Development, CJ has more than 12 years of player development experience and has built an impressive list of clients, including some of the top young prospects in baseball today. If your desire is to change your game for the better, C.J Stewart has a proven system of development and track record of success that can work for you.