In my home state of Georgia, it's spring time. And that means it's getting hot. The question for all you baseball players is, "Will you get hot this spring?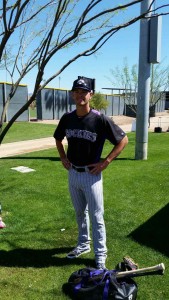 My hitters follow a yearly pattern of development and mindset. February through April is all about converting habits to skills. The new swing development year begins for us August through October. We focus on being assessed. We try new things and take calculated risks. And then, from November through January, we build habits.
There is only so much time in the day, which means you have to work smart.
If you aren't converting your habits to skills right now, when will you? A habit is something you repeatedly do – things like getting loaded on time. For example, take driving curve balls into the gap with regularity – not streaky, but with regularity. And not just when the sun is shining.
May through July is when we maintain skills that have been converted from habits. If you aren't at the level of skill yet with your swing, it's not too late. Here's how to catch up.
Assessment
Don't forget that skills pay the bills. Collegiate and professional players aren't compensated for their love of the game. I'm not saying that all of them are great players, but I am saying they must produce in order to remain competitive and keep their jerseys.
Let's assess your next 20 at bats to determine if you have a skilled swing. Set a goal to hit the ball between the left centerfield and right centerfield gap 15 out of your next 20 at bats, regardless of the outcome. I don't care if it's a pop up or ground ball. Your swing is skilled when you can do what you want to do, when you want to do it.
Attitude
Did you accomplish your goal of 15 out of 20 balls hit into the gap? It's not an easy thing to do. If it were, nobody would pay to watch. Ever paid money to attend a kickball game?
If you failed this skilled goal, how was your attitude? Your attitude should be one of humility and thanks, because you don't have to be the greatest of all time to enjoy this game.
Hitting requires mastery, which begins with knowledge. It also requires desire and habit building. Put all these together and you have a skill.
What sources do you depend on to educate yourself about hitting?
What distractions interfere with your desire to become an elite hitter?
Can you get to a good load position on time with good tempo 90 percent of the time?
You will never become great until you first realize that you aren't already.
Diamond Directors' Tip of the Week
Skill Build Drill Ball Catch
Adjustment
Making an adjustments requires you to do something different when you are doing things wrong. Are you aware when you do things wrong? Can you admit when you're doing things wrong? That requires humility.
If you didn't reach the skilled goal of hitting 15 of 20 balls into the outfield gap, what were you doing wrong?
What can you do different?
Do you need to adjust your practice routine?
Do you need to adjust your hitting drills?
Do you need to adjust your attitude?
Everybody wants to be a skilled hitter but everybody doesn't want to be assessed, change their attitude when they are failing or make the proper physical and mental adjustments.
Are you like the status quo?
Remember good hitters don't work hard; they work smart.
For more information, visit www.diamonddirectors.com today.
BIO
C.J. Stewart has built a reputation as one of the leading professional hitting instructors in the country. He is a former professional baseball player in the Chicago Cubs organization and has also served as an area scout for the Cincinnati Reds. As founder and CEO of Diamond Directors Player Development, CJ has more than 12 years of player development experience and has built an impressive list of clients, including some of the top young prospects in baseball today. If your desire is to change your game for the better, C.J Stewart has a proven system of development and track record of success that can work for you.