Long gone are the days when critical thinking and self-coaching are encouraged. I'm 38, and when I was a kid, having a hitting coach wasn't something anyone asked for. If the training industry existed, none of my friends knew about it.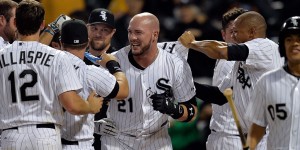 Don't get me wrong now – there is value in having a specialized hitting coach. Our value lies in connecting with our players with regards to their long- and short-term goals, and leading them on path toward success. That path should be based on a proven methodology that includes frequent assessments.
Back then we were great athletes who could think critically. We also watched a lot of baseball. If we had the resources that kids have now, we wouldn't have put a lot of effort into self-coaching either.
Self-coaching allows you to own your development. Coaches tend to make hitting a round ball with a round bat difficult, which means our players are forced to depend on us.
The commonality between the old days and today is that it takes a lot of work. You've heard that a lot. But let me simplify it – it takes 3,000 reps to develop a habit.
Here are three drills I did on my own as a kid that helped me become a professional player in the Chicago Cubs organization.
Drill No. 1 – Swinging in front of a mirror
I remember buying a mirror that I could put on the back of my bedroom door. There wasn't a lot of room to swing the bat, so I had to avoid a long approach (which avoided putting holes in walls).
I can guarantee that your swing will not get any worse if you complete this drills for the next 10 days:
1. Get a mirror that will allow you to see yourself swing from head to toe
2. Load for 2 seconds
3. Complete the swing, and then pause for 2 seconds
4. Repeat this for 50 reps, each day for 10 days for the next 20 days
The takeaway
You'll begin to feel and see the parts of your swing working together. Be sure that your front and back feet don't over rotate, which will cause you to lose balance. Remember – no balance, no power production. During your swing, make sure you see the barrel of the bat in the mirror. This will ensure you have a short approach. Short approaches create fast approaches – and fast approaches produce power.
Drill No. 2 – Pepper
All you need is a ball, a bat and a partner. Bat speed and power often are the two main aspects of hitting that coaches preach. What they neglect to enforce is bat control.
I guarantee your bat control will increase substantially if you do this simple exercise below for 10 days in a row"
Get a ball, a bat and partner
You should be 10-15 feet from your partner when playing pepper
Your partner must toss the ball to you while you take a controlled swing and hit a ground ball with one to two bounces back to the pitcher
Repeat this for 50 reps, each day for 10 days within the next 20 days
The takeaway
Most hitters want to hit home runs by swinging with maximum effort. Pepper isn't the time to hit homeruns. If you reduce your effort to simply hitting ground balls, you will find yourself accidentally hitting line drives and striking out less. Pepper allows you to feel the proper mechanics needed to drive the ball to and over the wall. Control in batting is important (think of it like you are trying to control your car in the rain).
No. 3 – Throw it up and hit line drives
This was my favorite drill, until I got in trouble for hitting other people houses with tennis balls. You can't go wrong with this drill if you are committed to improving your swing mechanics
1. Get a bat and balls (Wiffle, tennis and/or baseballs)
Toss the ball up, and then try to hit it when it gets into your strike zone
Your ability to hit line drives will depend on your approach angle to the ball. Ground balls lead to line drives. Pop ups don't lead to line drives
Repeat this for 50 reps each day for 10 days within the next 20 days
The takeaway
Hitting line drives are great. Ground balls are good and pop ups are bad. Doing this drills will definitely challenge your critical thinking skills, as well as your ability to make quick adjustments. Your eye and hand coordination will greatly improve as well.
You are your best teacher. Get started doing these drills today and you will be on your way to a productive fall of baseball.
Remember: Good hitters don't work hard; they work smart.
For more information, visit www.diamonddirectors.com today.
BIO
C.J. Stewart has built a reputation as one of the leading professional hitting instructors in the country. He is a former professional baseball player in the Chicago Cubs organization and has also served as an area scout for the Cincinnati Reds. As founder and CEO of Diamond Directors Player Development, CJ has more than 12 years of player development experience and has built an impressive list of clients, including some of the top young prospects in baseball today. If your desire is to change your game for the better, C.J Stewart has a proven system of development and track record of success that can work for you.