Here's something you should always remember when you step into the batter's box – skills pay the bills. Hitters with skills have the opportunity to compete at the collegiate and professional levels. Make no mistake about it – it's true.
A skill is the thing you do repeatedly without thought. It exceeds a habit.
For the past 15-plus years, I have developed elite hitters with the key word in this sentence being "developed." Having a little conversation and a lot of batting practice isn't development.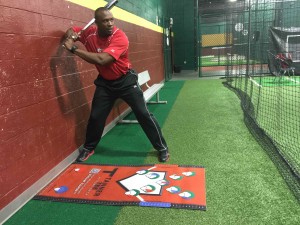 My clients, some of which include Andrew McCutchen, Jason Heyward, Dexter Fowler and Tim Beckham, started the development process with me at a young age. First they were assessed, and then they established habits and strength, which were converted into skills. Those skills continue to be maintained every year – because every year is a new one to you.
Don't get me wrong, luck can be good. It just doesn't last. Somebody has to perform on the field and somebody has to cheer from the stands. Where do you stand?
Here are three simple, yet effective skills that build drills for my clients right now.
Skill Build Drill No. 1
Great hitters get loaded properly. Their hands trigger back to establish momentum that later establishes power during the approach. Their stride foot moves forward. Their hands should be located between the back shoulder and back ear during the trigger. Their front foot should be engaged in the ground with their front leg firm and their feet a bats length apart. Their weight should be back, because the load was done properly rather than pushing the weight back. Check out this Wall Drill Load:
Put your back foot against a wall facing an imaginary pitcher in the opposite direction.
Using a marker for your feet, load with your back foot remaining pressed against the wall, along with your back elbow pressed against the wall. Your feet should be a bats length.
Execute this drill for 100 reps holding each rep for five seconds for 30 days to develop a skill.
The load is a skill rather than a nice to have.
Skill Build Drill No. 2
What good is a good load if you can't do it on time? Timing is when you get loaded. Timing is a skill. Without it, you won't pay the bills as a hitter.
All pitchers can be categorized as having either an above average, average or below average fastball. With that said, there are three opportunities for you to get loaded on time, depending on the pitcher's fastball velocity. Check out this drill
Get a pitcher to stand the required distance from you in a game (54 feet, 60 feet 6 inches, etc.) based on your league.
Have the pitcher complete his delivery 100 times with or without a baseball. The ball should not be pitched.
As a hitter, focus on getting ready on time based on above average fastball, average fastball or below average fastball. Execute this drill for 100 reps for 30 days to develop a skill.
Skill Build Drill No. 3
Good load. Check. Good timing. Check. So, the next skill you must master to become elite is tracking. Click here to learn more
Tracking and seeing the ball aren't the same. Seeing the ball is a great skill for baseball fans though. Major League hitters successfully track pitches at a rate of 80 percent. This doesn't happen by solely believing in themselves.
1. Get 100 baseballs and have somebody throw you pitches regardless of their throwing accuracy ability.
2. Have him throw 100 pitches and only swing at specific pitches on the random command of your coach. For example, I may throw 100 pitches to my hitter and only allow him to swing at a curve ball for a strike. I may only throw the strike on the 6th, 15th, 32nd, 67th and 82nd pitch. That means you must track the proper pitch and swing five times. This drill requires a lot of skill.
3. Execute this drill for 100 reps for 30 days in order to develop a skill.
Check out this video for further explanation.
Remember: Good hitters don't work hard; they work smart.
For more information, visit www.diamonddirectors.com today.
BIO
C.J. Stewart has built a reputation as one of the leading professional hitting instructors in the country. He is a former professional baseball player in the Chicago Cubs organization and has also served as an area scout for the Cincinnati Reds. As founder and CEO of Diamond Directors Player Development, CJ has more than 12 years of player development experience and has built an impressive list of clients, including some of the top young prospects in baseball today. If your desire is to change your game for the better, C.J Stewart has a proven system of development and track record of success that can work for you.