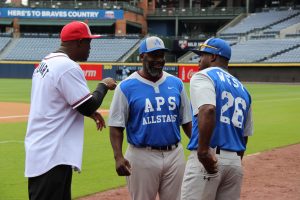 The baseball player development industry unfortunately is very fragmented as a whole throughout America. But, I must admit, I've enjoyed some great relationships with high school coaches across the country for years.
I attribute it to me being clear, concise and consistent with coaches on the fact that my mission through Diamond Directors is to provide the "blueprint" of success and significance for my diamond sports clients.
I recently asked several high school baseball coaches to answer three questions that may help value the opportunity to play fall baseball. The coaches included Antonio Coger, head coach, Maynard Jackson High School (Atlanta Public Schools); Mike Strickland, head coach, The Marist School and USA Baseball Team 15U; Alex Wyche, head coach, Redan High School; Lance Oubs, head coach, The Lovett School; Chad Laney, head coach, The Westminster Schools; Mike Brady, head coach, The Walker School; and Will Brown, head coach, D.M. Therrell High School, (Atlanta Public Schools.)
Here's what they had to say:
What is the advantage and/or disadvantage to baseball players playing in the fall?
Lance Oubs: Baseball players that play in the fall get the advantage of increased game reps. Hitting in the cage and throwing bullpens are both good for sharpening mechanics and conditioning specific movements. But to truly get better as a hitter and pitcher requires as many live game reps as possible. Game reps allow the opportunity for the pitcher and hitter to compete against each other, something just as important as exhibiting the fundamentals of a good swing or delivery.
Chad Laney: The advantages of fall baseball are the increase in the amount of reps a player can get in the form of swings, extra ground balls and/or fly balls. The advantage also is to further a dedication to proper pitching mechanics and improvement of specific pitches. In general, it can be a valuable time for one's commitment to sharpening his craft when you have free time to have a singular training focus.
The disadvantage is the potential lack of "competitive growth" that can come with playing a school team sport in the fall. These sports can provide a unique platform for commitment to a cause, team dynamics, personal sacrifice and performance under pressure. These are all elements that can make someone a more seasoned athlete and a better baseball player in the long run.
Mike Brady: Baseball players playing in the fall are able to work more fundamental and developmental skills and still get game reps, which I think would help with repeating and tracking the ball later in the spring. One disadvantage is that they do not get down time with their arms for ultimate healing. It is important for your arm to get a few weeks off with no throwing, and then begin a ramp up program to prepare for the season. Alan Jaegar has a great throwing program for this.
Will Brown: Advantage. Fall baseball is a great opportunity for high school players to sharpen their skills and improve in areas they need work in. It's a time to develop and take risks they might not take during the spring season. For example, they could experiment with a new hitting approach or integrate a leg kick in to their stride, instead of doing a knee tuck. Fall has a more relaxed feel about it compared to the spring, because there is less emphasis on winning and more emphasis on development.
Disadvantage. The one downside could be player fatigue, especially when it comes to arms. One way to combat this is proper arm care and consistent long toss, which will help keep your arm in shape throughout the year.
There is a lot of things a player cannot control throughout a baseball game, but confidence is something every hitter should have when they walk up to the plate.
Alex Wyche: Advantage. Fall is an opportunity for student-athletes to get bigger, stronger, faster and focus on mastering their fundamentals. Once spring comes, you have a month to practice as a team, which isn't enough time for players to develop individually. Fall is important to focus on skill devolvement.
Disadvantage. Many programs play 20-plus games in the fall, which typically is on top of 50 games in the summer and 30-plus in the spring for school. That's a lot of wear and tear on a young developing body. It also is a limited amount of time to improve skill sets. I don't believe players improve arm strength, getting faster, bat speed or batting power by playing games. It takes hours of consistent work. Those individual skills are what colleges and pro scouts look for.
Mike Strickland: Advantages are upperclassmen, especially seniors being able to get in front of college guys just one more time as signing day comes to a close. The disadvantage is not allowing your body to recover from what has most likely been a January to July or August season. Younger bodies need more time to recover in my opinion. Players must have time dedicated just to strength and conditioning while they're not playing. An athlete cannot serve two masters on so many levels.
Antonio Coger: The biggest advantage is reps. There is a distinct difference in the kids who get the repetitions in the fall versus those who do not. The disadvantages can range anywhere from risk of injury to burnout.
What are the top three things that hitters must be able to do in order to be competitive?
Lance Oubs: They must understand the strike zone for that particular game and make adjustments to what the umpire calls a strike.
Know the type of pitcher on the mound and how he's attacking the hitters. Is he a strike-thrower (be more aggressive at the plate) or is he struggling with command (be more patient)? Does he pitch by the book (look for fastballs in fastballs counts) or is he a guy who pitches backward (may have to look/expect off-speed in fastball counts)? Does he keep everything away or is he challenging hitters inside? What is his out pitch? Good hitters will use this information to adjust their approach at the plate.
Have a plan at the plate and deliver a quality at-bat. You must understand that the ultimate goal of an at-bat will be determined by the situation at hand. For example, with a runner on third base and less than two outs and the infield back, the goal of the at-bat is to score the run. A ground ball to the second baseman isn't a hit, but accomplishes the goal. This takes a very unselfish hitter that understands the team concept of offensive baseball.
Chad Laney: Hit to all fields, avoid striking out and have a plan.

Younger bodies need more time to recover in my opinion. Players must have time dedicated just to strength and conditioning while they're not playing.
Mike Brady: I believe they need to be able to control the things they can control (attitude, effort and response). Players must be ready for battle and not allow umpires to effect their entire at bat. They need to be locked in from the time they are in the hole, through the on deck circle, and in to the batter's box. What does the pitcher throw? What does he throw for strikes? What does he start with? And what am I going to look for?
Hitters must know their own swing, have good vision and be able to control timing and tempo for your success. It takes practice.
Will Brown: Have confidence: There is a lot of things a player cannot control throughout a baseball game, but confidence is something every hitter should have when he walks up to the plate. Confidence is built by good practice habits, focusing on what you can control and not fearing failure. Failure is going to happen in this game, so having a short-term memory and approaching each at bat like it is the first one of the day is vital to success. I truly believe confidence is just as important as having physical tools, and can be the difference between being average or being great.
Be aggressive. Aggressiveness ties into having confidence. High school hitters can expect to see a lot of fastballs and predictable pitching sequences, for the most part. Because of this, hitters must be aggressive and attack fastballs and favorable counts. Being aggressive is a mindset – one that puts pressure on a pitcher to make pitches and get out of his groove. Hitters must step in to the box ready to attack, instead of having a wait and see approach.
Be prepared. Having quality practice reps, a consistent routine, watching the pitcher in the dugout and in the on deck circle, and having a plan to attack the pitcher based on observations are all keys to being prepared and giving yourself the best chance to succeed.
Alex Wyche: Approach. Have a plan before you get in the box. Focus and see how the pitcher pitches the batter in front of you. Also, know if you hit a ball hard in your first at bat that you most likely will get a different pitch sequence the next time around.
Stay within yourself. Hitters in high school try to do too much. Base hits are fine. There are not many power high school hitters. I'll take a .400 hitter with one home run over a .200 hitter with 10 home runs any day.
Don't miss your pitch. Focus on a pitch, and don't miss it. A pitcher will make a mistake each at bat, don't miss it.
Mike Strickland: You must be able to not miss your pitch in a positive count. You must be able to execute situational at bats. What does the team need? And you must have an approach, not just hitting the ball because you are more physically gifted than the competition.
Antonio Coger: You must be able to handle off-speed pitches (having balance in your swing). Understand what the strike zone is by having plate discipline. You must be able to consistently hit mistakes.
Too many players focus on their batting average instead of doing the little things to help their team win.
What are the top three indicators that your hitters will be able to compete at the collegiate level?
Lance Oubs: Players that exhibit fundamentally sound swing mechanics and have a good feel for how to make adjustments to their swing usually are the ones who can transition from being a good high school hitter to someone who can succeed at the college level.
These are players that compete at the plate and are tough outs. There is nothing that frustrates a pitcher more than a player who grinds out a seven to eight pitch at bat, especially if he's getting the bat on the pitcher's best pitches. Players that compete at the plate and don't give in, or give at bats away usually are the ones who have success at the next level.
Players that hit for a high average in high school with low strikeout numbers, especially as they go down from the high classifications where the pitching can be consistently very good, to lower classifications where the pitching may not be as consistently good. If you hit .238 in high school with 25 strikeouts in 75 at bats, there is no reason to believe you will all of a sudden be a .300 hitter in college, where pitchers throw harder and command better off-speed pitches.
Chad Laney: The ability to drive the baseball with authority, a fundamentally sound swing that will generate more power with physical maturity, and the ability to successfully hit all types of pitches and speeds and drive in runs when given the opportunity.
Mike Brady: Repeatable barrel control and swing path. Can they hit the ball where it is pitched with solid contact and great balance? Do they have plus bat speed? Do they have a hitting IQ? Can they pick up the ball from the pitchers hand and see spin? Are they mentally tough?
Will Brown: Being able to hit to all fields. If a hitter consistently has a gap-to-gap approach and uses the whole field – that's the first thing that catches my eye. Pulling the ball is a natural thing for most players, but the average high school player struggles with the outside pitch and rolls over on those balls more often than not. If a player always thinks middle, attacks the outside part of the plate, and drives the ball the other way, that lets me know he can play at the next level.
Being a good situational hitter. Too many players focus on their batting average instead of doing the little things to help their team win. The person who has the ability to move a runner over, drive the run in from third, execute a hit and run or lay down a sacrifice bunt tells me a lot about what type of player he is. Having the right approach depending on the count is also a good indicator. If I see a hitter on a 3-1 count swinging at a curveball that bounces before it crosses the plate, that's a red flag.
On the other hand, a player catches my eye when he is down 0-2 in the count, shortens his stride, cuts down his swing, fouls off a few balls and battles back to draw a walk. That's the type of player I want up in any situation.
Being able to make adjustments. Hitters that can make adjustments on the fly demonstrate to me that they have a great understanding of their own game and the confidence to adjust accordingly.
Alex Wyche: Balance, bat speed/bat path and the mental ability to think about the game and make corrections as a hitter.
Mike Strickland: Vision that they can tell you what pitch they hit and where it was located. Having the ability to drive the ball dead away opposite field, not just in the opposite gap. The ability to self-correct and adjust within an at bat.
Antonio Coger: Can they use all parts of the field? Can they recognize the difference between a hitter's strike and a pitcher's strike? Again, that's plate discipline. And, do they have the ability to develop a plan (and furthermore, execute it) for every at bat they have?
Remember: Intelligence trumps being smart.
For more information, visit www.diamonddirectors.com today. Also, check out our Digital Magazine.
BIO
C.J. Stewart has built a reputation as one of the leading professional hitting instructors in the country. He is a former professional baseball player in the Chicago Cubs organization and has also served as an area scout for the Cincinnati Reds. As founder and CEO of Diamond Directors Player Development, CJ has more than 12 years of player development experience and has built an impressive list of clients, including some of the top young prospects in baseball today. If your desire is to change your game for the better, C.J. Stewart has a proven system of development and track record of success that can work for you.