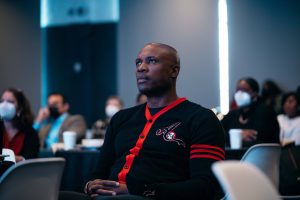 According to Wikipedia, respect—also called esteem—is a positive feeling or action shown toward someone or something considered important, or held in high esteem or regard. It conveys a sense of admiration for good or valuable qualities.
Is respect earned or should it be automatically given to people when you first meet them? Should being disrespected cause you in turn to be disrespectful toward others?
As a young baseball coach, I oftentimes was very disrespectful toward my players and their parents. My coaching strategy was to use fear to get my players and parents to do what I wanted them to do so that we could win games.
In most cases, it worked and we won a lot of games. But in all cases, I was not respected.
There are millions of boys who aspire to play Major League Baseball for the fame, fortune, and or fulfillment of purpose. Trying to accomplish that goal can expose the bad sides of people because it is a competitive process to be among the best in baseball.
As Babe Didrikson Zaharia once said, "If you win through bad sportsmanship that's no real victory."
Respect is such an important part of achieving personal goals, winning baseball games and winning at the game of life because respect leads to trust. And when people can trust you, they will advocate for you.
Coaching is one thing and advocacy is another I would argue supersedes coaching. Because what good is good coaching if you don't have the right person saying the right things about you to the right person at the right time.
And what good can be said about or do for a person that is disrespectful.
Listen to the good doctor, aka, Julius "Dr. J." Erving: "I firmly believe that respect is a lot more important, and a lot greater, than popularity."
To help keep your skills sharp, we have introduced a new type of Skill Build—our Virtual Skill Build—where I can help you develop hitting skills anytime, anywhere using anything.
Remember: Intelligence tops being smart.
For more information, visit www.diamonddirectors.com today. Also, check out our Digital Magazine.
C.J. Stewart has built a reputation as one of the leading professional hitting instructors in the country. He is a former professional baseball player in the Chicago Cubs organization and has also served as an associate scout for the Cincinnati Reds. As founder and CEO of Diamond Directors Player Development, C.J. has more than 22 years of player development experience and has built an impressive list of clients, including some of the top young prospects in baseball today. If your desire is to change your game for the better, C.J. Stewart has a proven system of development and a track record of success that can work for you.