I'm a huge Malcolm Gladwell fan. I'm currently reading his book, "What The Dog Saw" on Audible. One of the chapters is titled, "The Art of Failure – Why Some People Choke and Others Panic."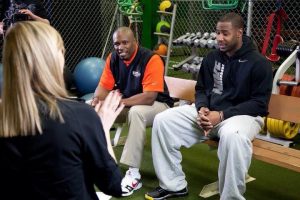 The chapter defines choking as when a person is under stress and reverts back to implicit thinking like a beginner. It's about thinking too much and the loss of instinct.
Panic is when you stop thinking. Panic is the reversion to instinct and the opposite of choking.
It's the final week of January, and our focus of building habits and strength (November-January) now will turn to converting habits to skills in February-April.
Baseball always is going to be stressful. It dictates who purchases tickets (the fans) and who is the ticket (the professional). Today, Major League Baseball is seeking more fans than pros.
If you're a human being, you will choke and panic under stress at times. It happens to the best of us. For example, skilled professionals like airline pilots, Navy SEALS and brain surgeons are humans, too. Even though they practice, study and train for thousands of hours, there are situations where they panic, too. It happens.
It's how you deal with it that matters. I believe that athletes such as Serena Williams, LeBron James and Mike Trout can rise to the occasion when there is stress in competition. Here are three reasons why:
Practice under duress
"If you don't train under duress, you won't experience sustainable success." – CJ Stewart
In my early and naive years as a professional swing coach, I wanted to train my hitters inside a climate controlled facility with limited distractions. The problem is that you can't control the weather and distractions at baseball games.
November through January are the months that I train my hitters by building habits and strength. A habit consists of three things.
Cue – varying pitch types, locations and speeds
Routine – the desired perfect swing
Reward – the hit
Building a good swing for a hitter isn't that difficult for me to do. The challenge is creating duress that won't cause my hitters to quit. Choking and panicking during the training is understandable and expected. Diamond Directors' mission is to develop significant people through diamond sports to do significant things in the world.
When choking, cough
Choking is when you are having difficulty breathing, while coughing is to expel air from your lungs.
When an athlete chokes in competition, it's because he is experiencing stress and chooses to revert back to implicit thinking like a beginner. Wise athletes gain wisdom by experiencing and overcoming failure in competition. They are aware of the stress that lead to choking and choose to cough. If I'm coughing, it means I'm able to breathe.
I don't know LeBron James personally, but I know he puts his pants on like every man. He gets nervous and feels stress during competition. The reason he's the ticket is because he coughs when he is supposed to be choking.
When panicking, pause
My daughters play competitive tennis, so I see a lot of Serena Williams' matches. Williams is the No. 1 women's tennis player in the world, but all of her wins aren't easy. Everyone is out to beat her because they want to be No. 1.
All of her matches invite high levels of stress, and therefore each match invites opportunities to panic. If she panics, we will know, because she will stop thinking and won't be able to do basic things like make contact with the ball. When the opportunity is present to panic, she appears to pause. That pause allows her to breathe, think and compete.
Spring baseball and its stress is coming whether you're ready to properly handle it or not. Not handling it properly is choking and panicking. Start now by practicing under duress. The practice will help you experience sustainable success.
Remember: Intelligence trumps being smart.
For more information, visit www.diamonddirectors.com today. Also, check out our Digital Magazine.
BIO
C.J. Stewart has built a reputation as one of the leading professional hitting instructors in the country. He is a former professional baseball player in the Chicago Cubs organization and has also served as an area scout for the Cincinnati Reds. As founder and CEO of Diamond Directors Player Development, CJ has more than 12 years of player development experience and has built an impressive list of clients, including some of the top young prospects in baseball today. If your desire is to change your game for the better, C.J Stewart has a proven system of development and track record of success that can work for you.