April brings a lot of rain. So, when it rains, you must be patient. I define patience as waiting without anger. I am constantly working on and praying for patience. Oftentimes, as a coach, I can quickly discern a player's full potential and I do a poor job of inspiring them to feel what I see. I do a poor job of inspiring them to feel what I see. Then they don't develop as quickly as I would like for them to and they start to lose their motivation to improve.
When this happens, I have to check myself before I wreck myself.
When my patience is at its best, I remind myself of the process that I have developed for my hitters. The Diamond Directors' philosophy is that it takes 3,000 reps to build a habit and another 3,000 reps to convert that habit to a skill.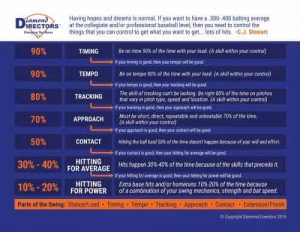 I have very little patient for the trite statement from coaches who advise their players to "trust the process" without a process.
On a scale of 1-10 with 10 being perfect patience, how would you rate your patience as you develop as a hitter?
How would you rate the patience of your current coach with your development?
How about your parents?
The month of April brings lots of rain, but I hope it also brings patience for you.
To help keep your skills sharp, we have introduced a new type of Skill Build—our Virtual Skill Build, where I can help you develop hitting skills anytime, anywhere using anything.
Remember: Intelligence tops being smart.
For more information, visit www.diamonddirectors.com today. Also, check out our Digital Magazine.
C.J. Stewart has built a reputation as one of the leading professional hitting instructors in the country. He is a former professional baseball player in the Chicago Cubs organization and has also served as an associate scout for the Cincinnati Reds. As founder and CEO of Diamond Directors Player Development, C.J. has more than 22 years of player development experience and has built an impressive list of clients, including some of the top young prospects in baseball today. If your desire is to change your game for the better, C.J. Stewart has a proven system of development and a track record of success that can work for you.