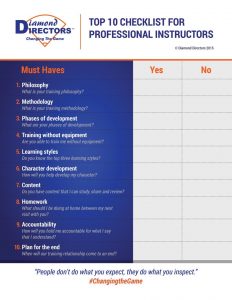 The highest quality of thinking can't emerge without learning. And learning can't happen without making mistakes. What mistakes are you not allowed to make on your baseball team?
As we know, baseball is the ultimate game of failure. That statement has been said so much that it often times doesn't have an impact anymore.
It is, in fact, a true statement.
Coaches unintentionally can create an environment that stunts learning for our players because of our own ignorance. I'm raising my hand high to this statement, because I was the king of "faking it until I made it."
These were my three mantras as a young, inexperienced and developing coach:
Scream and Dream – This is when you scream at kids the things to do at the plate knowing full well you haven't really prepared them for success.
Hit and Get – This is when you give kids tons of reps and expect them to get a hit every at bat simply because they had tons of reps.
Hope and Cope – This is when your hope for success for your players is stronger than your baseball coaching acumen and you lean on the "we'll get em next time" philosophy to cope with the failure.
One of the best things a good or even bad coach can do that will allow your players to develop is to simply allow them to make mistakes until they fully develop to our coaching acumen.
We should ask our players before the game what's the one thing thing they need to work on in the game that could lead to a base hit. Don't tell them a thing. Simply ask the question, trusting that because you selected them to play on your team they'll commit to executing that one thing.
Capture
Practice prepares you for games and games prepare you for the next practice. The game is the testing ground, so why are you barking instruction to kids during the game. Instead of barking, capture the most important things they must work in with regards to hitting. And as a coach, if your practice time won't allow you to give your hitters the thousands of reps they need to develop a habit, enlist their private hitting coach if they have one. Between practice with you and a private hitting coach, your hitters will be headed in the right development direction.
Did you know that it takes 21,000 hitting reps to build a habit? And another 21,000 to convert the habit to a skill and another 21,000 to maintain to skill.
Stance/Load x 3,000 reps
Timing x 3,000
Tempo x 3,000
Tracking x 3,000
Approach x 3,000
Contact x 3,000
Extension/Finish x 3,000
Remind
Remind your hitters that development is a journey, not a sprint. Be to them what you had or wish you had as a baseball coach when you were their age. Great hitters can be developed just like fighter jet pilots, brain surgeons and coaches can.
Remember: Intelligence tops being smart.
For more information, visit www.diamonddirectors.com today. Also, check out our Digital Magazine.
_____________________________________________________________________________
C.J. Stewart has built a reputation as one of the leading professional hitting instructors in the country. He is a former professional baseball player in the Chicago Cubs organization and has also served as an area scout for the Cincinnati Reds. As founder and CEO of Diamond Directors Player Development, CJ has more than 12 years of player development experience and has built an impressive list of clients, including some of the top young prospects in baseball today. If your desire is to change your game for the better, C.J. Stewart has a proven system of development and track record of success that can work for you.