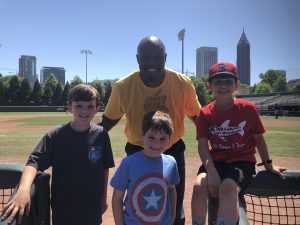 May is the month to maintain skills and skills pay the bills. A skill is something that can be done repeatedly without thought while under stress. Skills can only be developed by doing stuff that's tough. You maintain skills by continuing to do tough stuff.
Let's assume you're not a pilot. So, if a pilot helped you get a plane in the air, would you be able to control the plane while it is on autopilot or land it by yourself?
Remember, May through July are maintenance months for my clients, all of whom earned the right to put their swings on autopilot.
This month is a crucial time if you are a travel ball player, because now is the time to start competing in local, regional and/or national tournaments. Your coaches and parents want to win, and so should you.
Part of your success is on tracking – a skill that every hitter should have to maintain in May. As you know, there are seven parts to the swing. It takes 3,000 reps per part to maintain a skill. That's 21,000 reps.
Stance/Load
Timing
Tempo
Tracking
Approach
Contact
Extension/Finish
Check out this Tracking Skill Build Drill.
For more information, visit www.diamonddirectors.com today. Also, check out our Digital Magazine.
_______________________________________________________________________________________
C.J. Stewart has built a reputation as one of the leading professional hitting instructors in the country. He is a former professional baseball player in the Chicago Cubs organization and has also served as an area scout for the Cincinnati Reds. As founder and CEO of Diamond Directors Player Development, C.J. has more than 12 years of player development experience and has built an impressive list of clients, including some of the top young prospects in baseball today. If your desire is to change your game for the better, C.J. Stewart has a proven system of development and track record of success that can work for you.