You have heard me say this before: There is no better time to commit to your baseball development than during the fall season. You had a long, productive summer with lots of games and at bats. During those games, there were some keys areas you discovered that need your attention in the fall.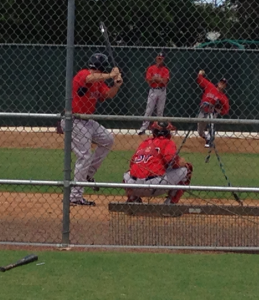 That's why it is imperative that you remain committed about your development this fall. If your goal is to make your high school team, secure a college scholarship or get drafted in the MLB draft, be proactive.
Following are three things you must learn this fall to help you reach your full potential:
1. Do you have the right coach?
Coaches are a critical part of your development, so establishing a working partnership with them is vital to reaching your full potential. It's all about making a long-term commitment to the process. It's important for you to ask two questions of your coach this fall: "What is my full potential?" and "Can you help me move in that direction?"
2. Where do you stand against players nationally?
The fall season usually consists of playing in at least two to three major tournaments. This provides a great opportunity to measure yourself against talent locally, regionally and nationally. It is important that you know where you rank among your competition so that it can help guide your development.
3. What should I focus on this winter?
You should know exactly what to work on in the winter based on your fall results. The focus this fall is on having productive at bats. If you can have a productive at bat 50 percent of the time, you can get a hit 30 percent to 50 percent of the time, depending on your age and the league you're competing in. Having a productive at bat requires you to have sound hitting fundamentals, including a good stance, load, approach, contact, extension and finish – supported by timing and tempo. You also must have plate discipline, an understanding of pitch sequences and the ability to make quick adjustments, just to name a few.
But perhaps the most important aspect of the fall season is that your development will include a certain amount of failure, which will serve as your teacher moving forward. Whatever isn't developed in the fall can be developed in the winter, which eventually will prepare you for the spring and summer.
Remember: Good hitters don't work hard; they work smart.
For more information, visit www.diamonddirectors.com today.
BIO
C.J. Stewart has built a reputation as one of the leading professional hitting instructors in the country. He is a former professional baseball player in the Chicago Cubs organization and has also served as an area scout for the Cincinnati Reds. As founder and CEO of Diamond Directors Player Development, CJ has more than 12 years of player development experience and has built an impressive list of clients, including some of the top young prospects in baseball today. If your desire is to change your game for the better, C.J Stewart has a proven system of development and track record of success that can work for you.