It's March baby. Do you know what that means? It means that February through April is spent on converting habits to skills. If you're playing baseball for recreation, developing skills isn't important.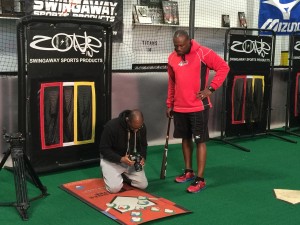 But if you're developing skills for baseball on a higher level (high school, travel team, etc.), it could take you all the way to the professional level. And those skills are transferable, too. Master them and you will be a better father, community leader or professional.
If you want to perform significantly in March at the plate, here are three things that you must do:
No. 1 – Heed humility
To be humble is to think of yourself less and of others more. Even if you were the best baseball player on earth, you'd still need a team to support you.
Do your teammates consider you as humble? Sure, being humble may not be the cool thing to do these days. Swag is in and humble is out. But selfish players – those who choose swag over commitment – typically participate in college and professional games on the fan level.
As a high school player, I drew the attention of several college and professional scouts. I later played at Georgia State University and in the Chicago Cubs organization. But my college and professional baseball career was unfulfilled because I lacked humility, among other things.
Humility is a performance enhancer. Try it now by thinking of yourself less and your teammates more.
No. 2 – Make mistakes
Development involves growth. It occurs in baseball when you make mistakes, which you should never be afraid to do. To become elite, you must stretch yourself by making mistakes.
Great hitters make mistakes and, guess what, those mistakes lead to adjustments. And adjustments lead to success, until that next mistake rolls around and you repeat the process all over again.
In order for this formula to work, you have to understand the fundamentals of hitting. When you do, you know what the mistakes are.
For example, a great mistake for a right-handed hitter is trying to hit a ground ball hard at the second baseman, but it accidentally goes into the right centerfield gap. An opposite field ground ball indicates that the barrel of your bat is above the ball – as well as inside the ball. This type of approach is short and quick, and allows you to make sudden adjustments with the barrel while the ball is still in flight. This type of approach also will allow you to extend through the ball, which produces power.
No. 3 – Fail forward
There is no way you can succeed without failing. Striving to get a hit is a very elementary mindset. You must focus on something crazy if you want to become a great hitter – something so crazy it forces you to fail.
When I was a young hitter I hated to fail. Now I know that failure is good. It is all about failing forward. Remember that phrase. It will always serve you well.
Major League hitters get to a good loaded position on time 90 percent of the time. That's a skill. If you focus on getting loaded on time 90 percent of the time in your games, you will experience a lot of failure. But that failure will lead to more productive at bats and, in turn, you'll get more hits. That's what we call failing forward – you're still improving although you're failing at a specific and crazy goal.
March onto the field this month with confidence. Heed your opportunities and be humble. Convert mistakes into opportunities to learn and remember that failure is good when it is forward.
Remember: Good hitters don't work hard; they work smart.
For more information, visit www.diamonddirectors.com today.
BIO
C.J. Stewart has built a reputation as one of the leading professional hitting instructors in the country. He is a former professional baseball player in the Chicago Cubs organization and has also served as an area scout for the Cincinnati Reds. As founder and CEO of Diamond Directors Player Development, CJ has more than 12 years of player development experience and has built an impressive list of clients, including some of the top young prospects in baseball today. If your desire is to change your game for the better, C.J Stewart has a proven system of development and track record of success that can work for you.