I have yet to find a hitter who went to the plate planning to fail. But I have found that the majority of players who go to the plate and fail also fail to understand why they are failing.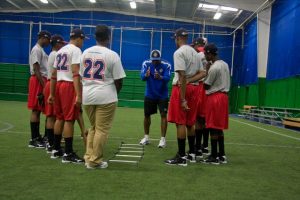 So, where do you turn with questions about failing at the plate? Can you tell if you're on track to reaching your full potential?
These are good questions. The good news is that your coaches should be committed to directing your development path as a baseball player. To help you sort it all out, here are three questions you should ask your coaches before the fall ends:
No. 1 – What type of hitter am I?
This is important so that you fulfill your role as a hitter on the team. Hitters are designated into several categories: slap hitters, contact hitters, line drive hitters, gap power and home run power. The top three hitting styles – slap hitters, contact hitters and line drive hitters – are great for the No. 1 and No. 2 slots. Fitting into any one of these categories means you possess patience at the plate and bat control. If you lack those two qualities, your coach may slot you between the No. 7 and No. 9 holes. The top hitters hit between the No. 3 and No. 6 holes. These hitters typically have the best bat control and patience, and generally possess gap and home run power.
No. 2 – What's our team hitting style?
Teams fit into one of two categories: small ball or power hitting teams. Small ball teams score runs one base at time (the "get him on, get him over, get him in" strategy) and generally have at least six hitters that range between slap and line drive hitters. Power hitting teams generally carry at least four hitters with gap to home run power. Power hitting teams can win a game with one swing of the bat and generally have lots of big innings.
No. 3 – What's the highest level you feel I can reach as a baseball player?
Some players play baseball for fun, while others want to play at a higher level. You can only reach your full potential if you have the ability, information for development and a coach who can direct you. If you want to play for fun, the previous sentence doesn't matter to you. But if you are serious about the game, be prepared to hear the truth from your coach. His assessment could help shape your future as a baseball player.
Playing games this fall will help you identify the skills needed to develop this winter in preparation for the 2014 season. You spend a lot of time and money playing this game. What do you want in return? Who can help you get the maximum return on your investment? Take these questions and more to your coach and find the best use of your time.
Remember: Good hitters don't work hard; they work smart.
For more information, visit www.diamonddirectors.com today.
BIO:
C.J. Stewart has built a reputation as one of the leading professional hitting instructors in the country. He is a former professional baseball player in the Chicago Cubs organization and has also served as an area scout for the Cincinnati Reds. As founder and CEO of Diamond Directors Player Development, CJ has more than 12 years of player development experience and has built an impressive list of clients, including some of the top young prospects in baseball today. If your desire is to change your game for the better, C.J Stewart has a proven system of development and track record of success that can work for you.