Many of my high school clients are attending showcases in July, which means their anxiety levels are off the charts. Believe me, I understand – there are college scholarships on the line. But just because I understand doesn't mean I agree.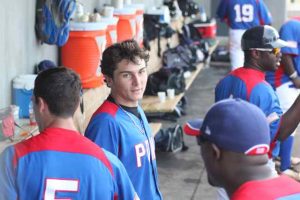 Baseball players who achieve the most success are the ones who are most prepared.
There are three outcomes you must be aware of when attending a baseball showcase. If you do, by the time you attend your third showcase, you should be ready to sign a college scholarship.
Showcase No. 1 – Seek & find mission
This is where you should be looking to gain experience. Going to a showcase for the first time can be intimidating, especially if you don't know what to expect. For example, what are the coaches looking for? Who are the other players you need to compare yourself to?
By experiencing the showcase evaluation process, you can continue to work on your strengths and weaknesses with your team and/or batting instructor. Remember to ask the scouts the specific things you must work on to get better.
You should also find out who the top players are. Check out the players in Perfect Game USA and Baseball America. These are the players who you have to measure your skills against, which will help take your baseball development to the next level.
Showcase No. 2 – Testing your mettle
During your second showcase, you're looking to test your confidence. By now, you should know what the coaches are looking for and have made the proper adjustments and improvements to your game.
You should be mentally ready, which will pan out in the showcase environment. You aren't playing the game to win now. You're trying to secure a college scholarship. Don't worry if you fall short. It's all about getting feedback. Success doesn't always come easy.
Showcase No. 3 – Securing your scholarship
By the time you hit your third showcase, you should be thinking scholarship. Your confidence should be high because you not only know what it takes, you have what it takes.
Before you hit the showcase circuit, let me analyze and rate your swing in my Online Hitting Lab. I can help give you the Skill Build Drills that can further your development.
Remember: Good hitters don't work hard; they work smart.
For more information, visit www.diamonddirectors.com today.
BIO:
C.J. Stewart has built a reputation as one of the leading professional hitting instructors in the country. He is a former professional baseball player in the Chicago Cubs organization and has also served as an area scout for the Cincinnati Reds. As founder and CEO of Diamond Directors Player Development, CJ has more than 12 years of player development experience and has built an impressive list of clients, including some of the top young prospects in baseball today. If your desire is to change your game for the better, C.J Stewart has a proven system of development and track record of success that can work for you.